15/09/2022 –
Heat treatment
Induction tempered spring wire processing line for electric vehicles
With Radyne as part of its brand portfolio including a reference list of 20+ induction tempered (IT) spring wire lines to its merit, Inductotherm Heating+Welding Limited have responded to a market trend for a spring wire heat treatment line with handling capacity better suited for larger diameter wires, bought about by heavy Electric Vehicles (EV).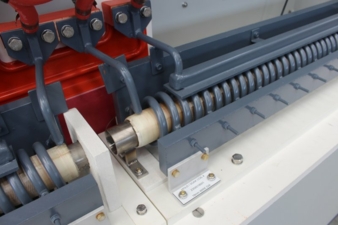 With the ever-popular increase in EV's, road cars are increasing in weight due primarily to the weight of the battery systems. As such, engineers are specifying larger diameter wires for the manufacture of the suspension springs. Whilst historically, a standard road car's coiled suspension spring would be wound from 12mm to 15mm wire, the design consideration for EV's has increased this requirement up to 22mm and beyond.
With a finished tensile strength of 2000MPa the handling specifications on their standard "Radyne Spring Wire IT Line" have been further developed to accommodate this increased requirement by manufactures. Currently, a standard "Radyne IT line" would use a continuous pay-off (torsion twist) up to 18mm diameter and a dead shear as a cutting unit, obviously the larger diameter wires are too strong for such devices.
A newly available version of this equipment will now use the option of an "off-line" horizontal axis pay-off and a flying shear for these larger diameters ensuring that wire processors can still benefit from the knowledge and expertise that has been built up over many years in the development of Radyne equipment within Inductotherm Heating+Welding Ltd.
Based on their ever popular, robust and proven system, the Radyne brand can now offer a turnkey equipment line that can process from 7mm up to 22mm. As is the policy with the standard Radyne Wire line equipment, this new development also comes with the process guarantee that covers dimensional distortion, surface finish and defects. This is in addition to the Radyne equipment being the most efficient, controllable and repeatable of its type on the market with environmental credentials.
With two take-up windmills and the same automatic "weld cut out" feature as found on their standard lines, these newly developed lines for larger diameter wires from Inductotherm Heating+Welding are proving to be an affordable IT line solution for spring wire processors who wish to supply high quality spring wire into the automotive market at the ever-increasing wire diameter sizes.
For further information on the "Radyne Spring Wire (IT) line" why not view their most recent animation at: https://youtu.be/RxZLN5fSbyI or visit their website at: https://www.inductothermhw.com/products/spring-wire-line/
Inductotherm Heating+Welding Ltd
Thermatool House, Crockford Lane
Basingstoke, Hampshire RG24 8NA, UK
Contact person is Amanda Tarbart
Tel.: +44 1256 335533
atarbart@inductothermhw.co.uk
www.inductothermhw.co.uk
About Inductotherm Heating+Welding
Inductotherm Heating+Welding Ltd are part of the Inductotherm Group which offers advanced technology for the engineering, manufacturing and service of thermal processing equipment used in the melting, heating, heat treating, forging, galvanizing, coating, cutting and welding of metals. Bringing together 40 companies with 38 manufacturing facilities located in 23 countries, Inductotherm Group delivers innovative products throughout the world. Customers rely on Inductotherm, Banyard, Inductoheat, Thermatool, Radyne, Consarc and other trusted brands in the Inductotherm Group to provide outstanding equipment and services.