22/05/2022 –
The "WIM CNC" for cold or hot coiling
Fully automatic lathe coiling machinery
Fortuna Federn will present at "wire" its latest products from all their machinery lines including latest spring coilers "COM" and "WIM CNC", spring end grinders "GRM CNC", wire bending tables "BEM CNC", double torsion production machinery "LDT CNC", spring loopers and many more.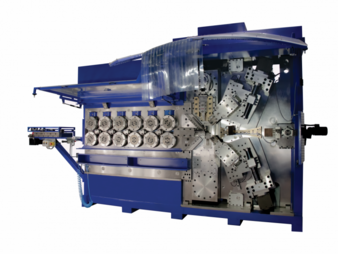 The "WIM CNC" fully automatic lathe coiling machinery for cold or hot coiling is still one of the Fortuna key products and with its leading role as one of a kind machine in this sector it is still important part of the business. Therefore, the development goes further and new ideas and solution are integrated all the time in this product line as well. Fortuna Federn presents all new possibilities of the unique "WIM CNC" spring coilers.
Fortuna Federn GmbH is an Austrian family-owned spring machinery making company in second generation founded in 1975 with its production factory in Croatia. From a small one-man business, the company has grown in the last decades and is now offering most sophisticated solutions in various segments of the spring making and automatization.
 The complete in-house mechanical design, electrotechnical and complete software development makes Fortuna Federn strong player in the world of spring making machinery and equipment. Fortuna Federn design and builds all mechanical components completely by itself and all software solutions for all own products are completely designed and adapted. Through such approach Fortuna Federn can react and adapt all its products to the customer needs. Most important key is the feedback from our customers where the new solutions can be implemented already on existing machines and make the future products even more reliable, more user-friendly and safer. Extended cooperation with big European suppliers around servo technology brought Fortuna Federn in the last years to the level where new industry limits can be reached.
 One of the most important features is their after-sale customer service and support. Their size as a mid-size company gives us speed in reaction on the client's needs. The internal deciding chain is kept short what allows always fast reaction. The young, dynamic and dedicated team is available to the customers for all their issues in quite easy up to date communication way where the pre-diagnostic can be made directly online on the machine through secure VPN connection.
 In the last years through internal restructuring in the field of machinery safety, machine and software design Fortuna became a considerable choice for big companies specially in the automotive industry.
With "COM CNC" line Fortuna has reached potential of delivering custom made solution for large mass production of almost all types of springs used in the industry in wire diameters up to 23.00mm high tensile silicon chrome OT.
 Using the knowledge and experience of 47 years in the industry Fortuna has been involved in many international projects of automatization beyond spring industry. Such projects have forced Fortuna to increase the production capacities even in the quite difficult pandemic years and with 2nd production hall it received even more space crucial for further development and growth.
wire 2022, hall 13 booth C 05
Fortuna Federn GmbH
Brunn 23, 8544 Pölfing Brunn, Austria
Contact person is Goran Fofonjka
Tel.: +43 3465 2949
info@forunafedern.com
www.fortunafedern.com