14/11/2023 –
The double pressure welding process is used especially in wire drawing shops
Double pressure welding machines
With the double pressure welding machine "DD0 104", but also the "STS 020" from Ideal-Werk, the heat-affected material made of iron or non-ferrous metal is almost completely pressed out of the welding zone with force after the welding process.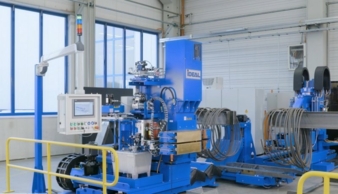 This improves the mechanical properties as well as the design of the weld. With the "STS" or "DD0" type series, high welding quality and enormous strength can be achieved. At the same time, the machine is characterized by high reproducibility of welding parameters. The Ideal solution for application in coil vertical haul-offs of stretching lines and drawing lines.
 With Ideal wire butt welding machines of type "DSH", precise, repeatable and drawing-resistant butt welds are achieved. The robust machine concept with intuitive operation is especially designed for use in wire drawing shops, cable plants and wire processing. Thanks to the precise linear welding carriage guidance, the machine is also ideally suited for joining wire products in single operation. "DSH" type machines are equipped with manual clamping devices.
 All "DSH" type wire butt welding machines are already equipped with a device for post annealing of low carbon steels as standard. The machines can be equipped with further annealing devices according to the respective application. The annealing devices cover the spectrum from simple to electronically controlled and automatic annealing temperature control with infrared spectral pyrometer. Thus, even the processing of hard steel wires or special alloys succeeds without any problems.
 In the case of Ideal wire butt welding machines in the "NE" equipment variant – for processing non-ferrous metals – jaw spacing, upsetting pressure and current path can be set separately even in the basic equipment.
Ideal-Werk C. + E. Jungeblodt GmbH+Co. KG
Bunsenstrasse 1, 59557 Lippstadt/Germany
Contact person is Lara Reen
Tel.: +49 2941 206-219
Reen@ideal-werk.com
www.ideal-werk.com