10/08/2020 –
Research alliance
Artificial intelligence for industrial use
The Stuttgart-based Fraunhofer Institute for Manufacturing Engineering and Automation IPA and the high-tech company Trumpf have formed a research alliance that is set to run until 2025. Their goal is to introduce artificial intelligence (AI) solutions for connected manufacturing on an industrial scale.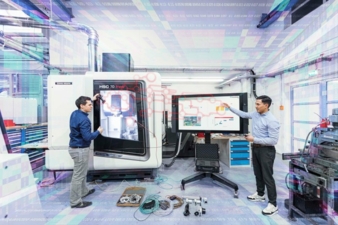 Ten employees from Trumpf and Fraunhofer IPA are involved in the project, which will receive some 2 million euros of funding spread over the next five years. "Trumpf's mission is to further extend its AI leadership in sheet-metal fabrication. To that end, we have already started investing in the kind of future technologies that will drive major efficiency gains within our company and boost our competitiveness," says Thomas Schneider, managing director of development at Trumpf Machine Tools. Five years have passed since Trumpf and Fraunhofer IPA joined forces to work on smart factory topics, and the two partners will be continuing to pursue these existing projects within the framework of their new research alliance. "Trumpf has been working with us on connected manufacturing for years because they share our view that Industry 4.0 developments represent a major opportunity. Everything depends on what happens over the next few years – so these are exciting times! We expect the coronavirus pandemic to act as a kind of catalyst: those who are well prepared will be perfectly placed to exploit the huge opportunities that lie ahead. Soon we'll see whether we have laid the right foundations for the future in our joint projects," says Professor Thomas Bauernhansl, director of Fraunhofer IPA.
Future projects aim to make AI explainable
One of the goals Trumpf and Fraunhofer IPA hope to achieve over the next five years is to develop solutions for better data quality in manufacturing. This reflects the crucial importance of high-quality data when it comes to achieving efficiency gains with AI. To address this need, the two partners will be increasing their research activities in the field of explainable artificial intelligence, or EAI. Their goal is to make the operation of neural networks interpretable. New findings in this area are of great benefit to sheet-metal fabricators. The results of this kind of data analysis can boost the quality of manufacturing, save time and cut costs.
New solutions close to coming to market
Trumpf and Fraunhofer IPA began working together on digital manufacturing in 2015. The initial results of this collaboration are now close to coming to market. These include Trumpf's Sorting Guide assistance system, which is designed to help workers remove and sort laser-cut sheet metal parts. The AI solution detects the part removal process and automatically supplies workers with all the information they need for intralogistics. The system highlights parts in different colors to show which ones belong together, either because they are part of the same order, are destined for the same customer or are heading to the same machine for the next step in the manufacturing process. This solution replaces the documentation that would otherwise accompany each part, saving time and helping to prevent errors. The two partners hope to build on these initial successes by continuing their strategic cooperation in the future.
Fraunhofer-Institut für Produktionstechnik und Automatisierung IPA
Nobelstrasse 12, 70569 Stuttgart/Germany
Contact person is Christian Jauch
Tel.: +49 711 970-1816
christian.jauch@ipa.fraunhofer.de
Trumpf GmbH + Co. KG
Johann-Maus-Strasse 2
71254 Ditzingen/Germany
Tel.: +49 7156 303-31251