12/09/2023 –
C-technologies / software
Timeline design makes spring former more efficient
Nowadays, there are various types of CNC spring machines, each with its own unique CNC software. The performance of a CNC spring machine is not solely determined by its physical construction; smart software design plays a pivotal role in enhancing its capabilities. With the right software in place, the machine's efficiency and productivity can be greatly optimised.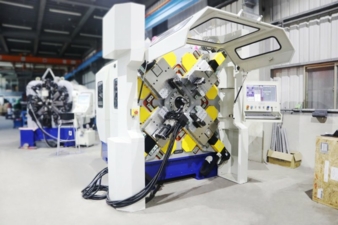 Simco camless spring forming machines and "SFX" series spring forming machines are equipped with timeline software, which not only greatly increases the production of springs, but also improves the work efficiency and satisfaction of the operator.
 The timeline software is specifically designed for Simco's spring-forming machines. The operator can seamlessly reorganise the actions of the machine by simply dragging the timeline. Through the effect of parallel tasking, production capacity can therefore be greatly increased.
 Simco has accumulated rich experience in designing and manufacturing spring-forming machines since the earliest two-axis cam spring-forming machine era. To meet customers' demands for faster, more precise, and more complex spring production, Simco Programming Studio keeps pacing with the times and continuously develop advanced functions. Now the new version of the software can be obtained by online download and is provided to customers for free updates.
In conclusion, smart software design is very helpful for maximising the efficiency of CNC spring machines. And the timeline software design concept makes operators seamlessly reorganise machine actions, increasing spring production and work efficiency.
Taiwan Simco Company
6F.-1, No.27, Ln. 61, Sec. 1, Guangfu Rd.,
Sanchong Dist., New Taipei City 24158, Taiwan
Tel.: +886 2 29954088
simco@simcotw.com
www.simcotw.com