03/05/2021 –
"Packaging Lines" for wire coils
Start-up of a new wire coil strapping line
Saizar Strapping Machines present one of the latest manufactured "Automatic Complete Packaging Lines" for wire coils for one of its clients to learn the line's process so that it could be implemented in different companies worldwide.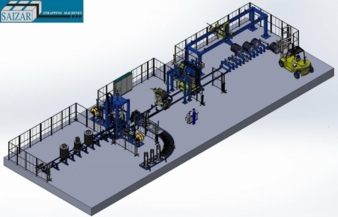 The company from the spanish basque country offers and supplies all kinds of strapping and packaging solutions mainly for the steel industry. Automatic strapping machines are always manufactured and supplied taking into account the needs of the customer and the conditions of his facility, which means that each machine is unique, tailored exactly to the needs of the customer.
Packing Lines adapted to client's needs
This new Line for example, is composed by the entrance of the wire coils in baskets, with a capacity to store a total of six wire coils as well as its baskets. Once the wire coil enters in the line, the next step is to center the guide of the basket in front of the strapping station in an automatic mode. After that the wire coil is compacted with a max. pressure of 10t in accordance to the client's requirements as well as to carry out the strapping process automatically with 25mm PET strap through two Automatic Strapping Machines, performing two straps together, due to the high productivity of the client.The line includes a trolley with a tilting system that helps evacuate the wire spool from the basket, as the basket would move out of the line thanks to the crazy roller conveyor.
Meanwhile, the wire coil gets passed through an elevator to another carriage where the wire coil is weighed. The client requested an integrated weighing system. Having weighed the wire coil, the next step would be to wrap the wire coil. In this case, the Line has implemented an Automatic Wrapping Machine which wraps also the inner side of the wire coil, in other words, the coil's eye is also wrapped before storing it. Afterwards a Labeling system places a sticker on the flat surface of the wire coil. Finally through the 2nd elevator, the wire coil will be stored in any of the six exits of the Packing Line. Last but not least, the wire coil is evacuated by the operator with a forklift. For the safety of the operator the complete packing line includes different photoelectric barriers and security fences around the perimeter of it.
Saizar Strapping Machines SL
Polígono Beotibar, 4
20491 Belaunza (Gipuzkoa)/Spain
Contact person is June Murgia
Tel.: +34 943 675068
info@saizarsl.com
www.saizarsl.com
The Line is composed by these elements
– 1 entry chains conveyor.
– 1 coil centering device.
– 1 hydraulic compactor.
– 2 automatic strapping Machines for 25mm PET strap.
– 1 carriage with tilting device.
– 1 pusher with roller conveyor for evacuation of empty baskets.
– 1 carriage with rammer.
– 1 elevator.
– 1 carriage with rollers and weighing station.
– 1 automatic wrapping machine.
– 1 automatic labelling machine.
– 1 crane for wire coils.
– 6 supports for storage of wire coils.