14/09/2022 –
Spring manufacturing
New spring coiling machine type "C9.1"
At the recent edition of the exhibition "wire 2022" in Düsseldorf OMD Officina Meccanica Domaso presented a preview of the new spring coiling machine type "C9.1", a synthesis of the experience gained in half a century manufacturing of coiling machines.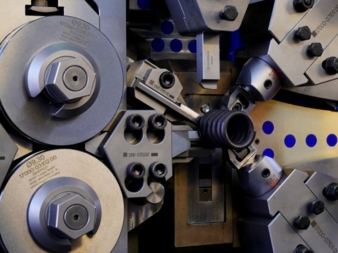 Reliability, performance, quality and ease of use are the common features to the full range C4.1, C6.1, C9.1 and C12.1 explain OMD. From the constructional point of view on the C9.1 the fully electronic machine management (no hydraulics) stand out. Compactness and rigidity of the machine allow to coil springs with a tight winding ratio (w = 1:3). Automatic opening and closing of the rollers with self-regulation of the rollers closing pressure. Motorized system for wire insert and winding of the first coil.
Rigid and compact cutting unit that avoids dispersion of vibrations produced during the cutting operation. The system allows customers to quickly change the cutting method according to the characteristics of the spring to be produced: linear, rotary, fly and torsion. Quick change from right to left winding simply by activating a program function and without mechanical adjustments.
Vertical pitch tool used for small steps and high precision and horizontal pitch used for larger steps or to prevent the first coil from tripping over the exit wire guide.
The structure of the forming slides allows the orientation of the coiling pins: tilting: to position correctly on the wire axis; radial: to facilitate the creation of the diameters or rotating: to vary the pre-load of the spring body.
Centralized lubrication system with automatic control for a correct lubrication of the main mechanical parts.
Control of the movements by means of digital interface SOE (Sercos over Ethercat) able to manage the electronic axes of the machines with precision and velocity.
The digital system also allows customer to control and manage information on the status of the motors and of the drives which is useful for machine operation and diagnostics. The data export allows a complete automation of the production process and optimizes productivity by scheduling routine maintenance and anticipating any machine failures.
Simple and rational use of the machine thanks to the dedicated graphic interface and reduced mechanical adjustments; reducing thus tooling times and costs. The implemented programming system has been designed on the one hand to facilitate and to correct the operator's operation during the setup phase, on the other hand to interface external control systems capable of guaranteeing the quality level required by the market; in the program infact it is possible to enable the wire marking recognition system, the wire slippage control and the use of a camera for length and diameter control during the spring production.
OMD Officina Meccanica Domaso S.p.A.
Via Case Sparse, 205
22013 Domaso (CO), Italy
Tel.: +39 344 97496
info@o-m-d.it
www.o-m-d.it