04/01/2023 –
Walter and Elfriede Niehoff Foundation supports project of the OTH Regensburg
Niehoff promotes research on the use of digital twins
The Walter and Elfriede Niehoff Foundation, named after the founder of Maschinenfabrik Niehoff and his wife, supports the research project "Use of digital twins for medium-sized mechanical engineering companies" of the East Bavarian Technical University of Applied Sciences (OTH) Regensburg with half a million euros. The cooperation agreement was signed by Ulla Niehoff, Chairwoman of the foundation, and Prof. Dr. Ralph Schneider, President of the OTH Regensburg.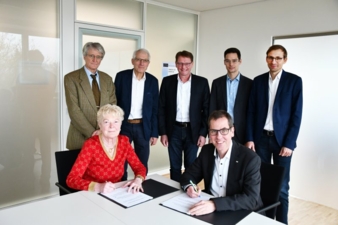 The research project combines basic research with applied research and is designed to help small and medium-sized mechanical engineering companies gain a significant knowledge advantage and thus a market advantage by using digital methods in the product development. A digital twin is, in simple terms, the virtual copy of a process or a machine and enables the simulation of operational sequences under conditions that are close to reality. In this way, production processes can be simplified, resources can be used more sustainably, costs can be reduced and the development of innovations can be accelerated. The resources of the foundation will be used to finance the post for a research assistant who will, among other things, initiate interdisciplinary activities in the aforementioned research area.
The Walter and Elfriede Niehoff Foundation also mainly supports young professionals in technical and economic courses and supports social and cultural projects at the Niehoff site in Schwabach.
The internationally active Niehoff Group is a leading manufacturer of machinery for the wire and cable industry and has around 1000 employees worldwide. The parent company has been working with the Mechanical Engineering Faculty of the OTH Regensburg for about one and a half years and participates along with other well-known plant and machinery manufacturers in its new "digital twin working group".