04/05/2020
Special machine to produce U-staples
Baudrand New Tech is proud to introduce its ability to respond to special parts manufacturers needs with special equipment. Acting in the field of wire and strip forming since 1992, Mr Jean-Marc Baudrand, the founder and owner explains that the french company has been approached, a year-ago, by a producer of special technical staples used in the conveyor-belt industry.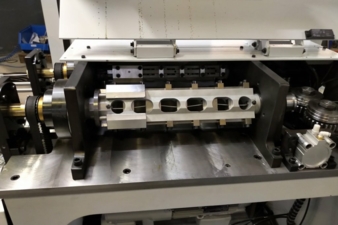 The need was to replace old existing wire bending machines. Some issues of using old technology was in terms of heavy and long maintenance costs, slow production, long change-over times and un-consistent product quality. To cover the high volumes of staples needed from the market, the decision taken was to go for a custom-developed production machine.
The machine is able to handle wires up to 3.5mm, with total developed staple lengths up to 100mm. Staples come directly from the machine with both ends chamfered. Raw materials are coming from two coils of wire used at same time, so as to double-up production rates without bearing any of the disadvantages of feeding, bending, and chamfering at excessive speeds. Production rates are set at 120 staples per minute.
The process
Two coils of wire are placed onto two motorized one-ton-capacity decoilers. Wires go through a double rotary straightener, which mechanical set-up is brought by means of a motorized and digital system. The main machine processes the wires in discontinuous mode, and the decoilers feed raw materials at quite continuous speeds. In order to synchronize both, a double buckle of raw material accumulation has been created. Each wire feeding is provided by a dual set of four feed rollers, with quick clamping and opening. Each set is driven by its own motor. To avoid any possible slippering in wire feeding, encoders are directly holding their rotation on the raw materials themselves. Cut-to-length wires are brought and hold in a indexing plate, rotating around an horizontal axis. The plate moves the cut wires to a end-chamfering station, and, further to a bending tooling. Each step is controlled by sensors. The operator can control and have a monitoring of the complete process through a color touch screen.
Baudrand New Tech Europe
wire 2020, hall 16 booth H 04
31, rue Laure Diebold,69009 Lyon/France
Contact person is Jean-Marc Baudrand
Tel.: +33 4 78574628
jean.marc.baudrand@baudrand-new-tech.com
www.baudrand-new-tech.com