08/07/2022 –
Company expands presence in America and Asia
Delta Tecnic's 12% business growth for 2021
Delta Tecnic, a technology partner specialising in masterbatches for the cable and PVC industry, remains in a healthy shape after posting revenues of €50.9 million in 2021, up 12% from 2020. The trend remains upward for the company in 2022, with turnover up 21.4% in the first four months compared to the same period last year.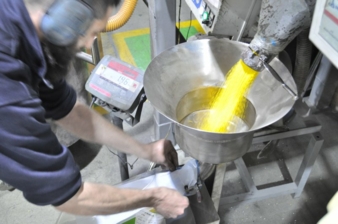 Delta Tecnic's development is the result of its commitment to sectors where there is an urgent need or which are undergoing technological change, such as electromobility, the energy transition and telecommunications. In this sense, the main sectors for the company are: energy (30%), construction (25%) and automotive (20%). Thus, the company has overcome the situation of volatility and uncertainty that the market has experienced in recent years.
Eric Xirinachs, CEO of Delta Tecnic, highlights the company's resilience strategy in the turbulent period between the pandemic, the supply crisis and the war in Ukraine. "Our company's resilience is based on trust, technical expertise and relationships with our customers and suppliers, as well as diversification in different markets, which has allowed us to navigate through an environment of volatility unprecedented in the company's history while maintaining our growth and profitability.
Strategic presence in Mexico to expand in the Americas
Delta Tecnic has been selling its products in Mexico for 25 years and in 2020 it started up the masterbatch plant in Querétaro. In 2021, Delta Tecnic's turnover in the country stood at €5.6 million, which translates into a 28% increase compared to the previous year. In the first four months of 2022, growth in Mexico was 15% compared to the same period of the previous year.
For Delta Tecnic, Mexico is a strategic market from which to supply its products to various countries on the continent, such as the United States, Canada, Costa Rica, Colombia, Peru, Brazil, Chile and Argentina. In this respect, one of the company's objectives is to expand its presence on the American continent, based on its investment in the Mexican plant.
The company is also seeking to strengthen its leadership in Europe by expanding the industrial sub-sectors it serves. It is also making significant inroads in Asia, having experienced strong growth in India. In this respect, Delta Tecnic exports more than 75% of its production, a clear indication of the role the company plays on an international scale. In terms of human resources, Delta Tecnic has a total of 200 employees, 158 at the Sant Celoni plant (Barcelona) and 42 in the Mexican city of Querétaro.
As the Global masterbatch market grows, Delta Tecnic does, too
The global masterbatch market grew at a compound annual growth rate of 3.1% between the years of 2017– to 2021, to a total figure of $14.933bn (€14.177bn), according to a study by Precision Business Insights. Over the same four-year period, Delta Tecnic's global business grew by 9%.
The same study shows that the European region recorded a masterbatch market share of 29% in 2021 and is expected to grow by 5.2% between 2022 and 2029, to reach a value of $5.929bn million (€5.632bn m). Spain is the fourth largest European country in terms of masterbatch market share, at 13.7% in 2021, and is expected to grow by more than 4% between 2022 and 2029, to $772.6m million (€734 m).
Innovation and sustainability to lead the industry
Delta Tecnic reaches its 40th anniversary this year after having driven throughout its history a never-ending process of modernisation, in line with the legacy of its founders. This has resulted in a strategy with an international vision, technological leadership, digitalisation and renewal of the sales team with experts in different regions.
The company is clear on is stance that innovation is essential for leading the sector and, for this reason, it invests 3% of its budget in R&D. Sustainability also plays a critical role— this year, the Right Supply platform accredited Delta Tecnic's adherence to its system of suppliers committed to sustainable development. The company promotes the revaluation of plastic waste, not only to minimise waste, but also to increase the percentage of recycled plastic in new products.
About Delta Tecnic
Delta Tecnic was founded in 1982 to commercialize raw materials in the plastic, cable, ink, paint, and cosmetic industries with the distribution of leading brands worldwide. With more than 40 years of experience and a total of 20,000m² in facilities, with three production plants, two of them located in Barcelona (Spain) and one of them in Querétaro (Mexico), the company has grown to position itself as a leader among Trading companies in Spain, as well as one of the main producers of Masterbatch for the cable and PVC industries globally.
Among the three divisions of Delta Tecnic, Delta Color Masterbatch stands out with a production capacity of 18,000t/y .In addition, the division has more than 11,000 developments and 22 production lines. On the other hand, the Delta Trading Pigments and Plastics divisions distribute in leading firms such as Eckart, Cabot, Baerlocher, Cinic, or Aralon.
With 3% of global turnover dedicated to R&D, the company is focused on technological innovation and quality of service, providing deep knowledge of the market and formulations, always optimizing customer processes to become a technology partner focused on product development and innovation.
Currently, the company already exports to more than 60 countries with an export volume of 80%.