22/09/2021 –
Wire tensile strengths of up to 1,600N/mm²
Straightening technology for spring wire
Eurobend GmbH has more than three decades of experience in the construction of CNC-controlled straightening machines and systems for the wire and reinforcing steel industry.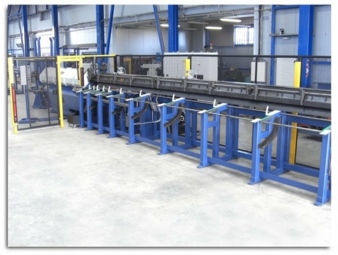 The range of spring wire processing lines includes a full range of programmable high-performance automatic straighteners from coil ("MELC-Monoline" and "MELC-Polyline" series), which cover the diameter range Ø2mm to Ø30mm with wire strengths of up to 1,600N/mm². The straightening method is based on the principle of the rotor with hyperbolically profiled rollers, which was introduced by Eurobend engineers in the early 80s and has been further developed since then.
The straightening machines of the MELC-Monoline series with the latest development from Eurobend, the 5G maintenance-free rotors, enable the processing of spring wire qualities such as 54SCV6, 2C22 and XC48 with diameters of up to Ø30mm. The length measurement takes place electronically with a length accuracy of ±1mm or with the help of an automatically adjustable mechanical stop system, whereby an accuracy of ±0.1mm is produced.
Thanks to the low friction, the wire is not heated as with conventional methods, the surface is protected and energy costs are reduced by up to 40%. The flying cutting unit and special designed cutting tools provide a clean cut without interrupting or slowing down the wire feed. Electrically driven reel unwinding stations with automatic threading systems for the wire, distribution systems for the cut rods and highly developed control and safety technology round off the innovative concept of the MELC series.
For small wire diameters and increased production output, Eurobend is the only manufacturer who offers straightening machines with several rotors working simultaneously, the unique MELC-Polyline series.
Eurobend GmbH
Alexander Strasse 1
90547 Nuremberg-Stein, Germany
Tel.: +49 911 9498980
sales@eurobend.com
www.eurobend.com