24/02/2023 –
Wire drawing / Preparation
Savings thanks to internal wastewater treatment
High waste management costs for the disposal of industrial wastewater prompted Anka-Draht to think about ways to save money and to procure a wastewater treatment plant. The purification of the electroplating wastewater and the used wire drawing emulsion is now carried out by two "Vacudest" evaporators.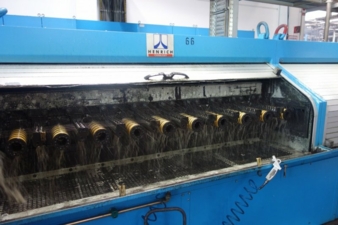 "Our wire drawing emulsion consists of 92% water," explains Thomas Zimmermann, wire drawing department manager at Anka. "So we quickly concluded that we could reduce wastewater amounts by means of evaporation." No sooner said than done: In 2007 Anka-Draht purchased the first "Vacudest" vacuum evaporator to treat the used wire drawing emulsion. Due to the positive experience that was gained, the second evaporator followed for the galvanic tin plating wastewater. Anka is therefore not only drastically reducing waste management costs, but also saving freshwater by re-using the purified wastewater.
 Anka-Draht, whose registered office is in Neunburg vorm Wald near the Czech border, manufactures thin copper wire for special cables. Most of its customers are in the cable/electronics industry in Europe, but are also in mechanical engineering, the automotive industry, and medical engineering. The family business was founded in 1971. Today 180 employees work on 25,000 square metres of production and workspace. Their daily work: 100 tonnes of copper wire! Wound onto reels, this results in ten lorry loads of wire per day.
The main wastewater generator during wire production is the drawing process. The thick raw wire is thinned down by drawing it over multiple drawing stages, which are wetted with emulsion for cooling, lubrication and transporting dirt. Anka then routes the used wire drawing emulsion to the "Vacudest" vacuum distillation system for treatment.
A wastewater-free production with "Clear Cat"
The "Vacudest" operating principle is simple: Oils, fats and dirt do not evaporate and remain in the evaporation residue. Only the pure water evaporates. This cleaned water – also known as distillate – is of such high quality that Anka-Draht can reuse it as the new basis for the wire drawing emulsion. This is made possible by the patented "Clear Cat" technology. It prevents the smallest of oil droplets from getting into the distillate – resulting in crystal clear distillate. "We previously had to elaborately prepare mains water as the new basis of our wire drawing emulsion. Now we can take the distillate from the evaporator – with no intermediate step" says Georg Leitl, person responsible for drawing media and employee responsible for the "Vacudest" at Anka.
 From 100% wire drawing emulsion, the "Vacudest" evaporates 92% water for recycling. The evaporated concentrate must be disposed of, but this only incurs 8% percent of the original disposal costs.
The "Vacudest" in galvanic tin plating
The second "Vacudest" is used in the tin plating area. The drawn copper wire is immersed in a tin electrolyte bath. Electric voltage causes a thin tin coating to form on the surface of the copper wires. The rinsing water from this galvanic process is heavily charged with heavy metals and complexing agents. The "Vacudest" reliably separates these with its physical evaporation process. The distillate can be immediately disposed of or even recycled.
Independence from disposal companies
However, evaporating its wastewater is not only a cost saving for Anka, it also has another important advantage: Independence from disposal companies. "Previously we had to call in the disposal company approximately 25 times a year," explains Leitl. "This was a large planning overhead which left us paralysed. We also needed to store the waste water temporarily, which was not an easy task. Now the disposal company comes just twice a year and we are much more flexible."
Compact system, good service
Why use a vacuum distillation system from H2O GmbH, and not another evaporator? "The system itself is far more compact and does everything that we need," says Zimmermann. "We do not regret our decision, because it works! The H2O service contacts are good and can be reached quickly. We feel fully supported, save a lot of money, and are also doing something good for the environment with our zero liquid discharge production. We are, quite simply, completely satisfied!"
The Author is Catherine Akintschin, H2O GmbH.
H2O GmbH
Wiesenstrasse 32
79585 Steinen
Germany
Contact person is Catherine Akintschin
Tel.: +49 7627 9239-307
catherine.akintschin@h2o-de.com
www.h2o-de.com
Anka-Draht Andreas Insinger GmbH+Co. KG
Industriestrasse 7
92431 Neunburg vorm Wald
Germany
Tel.: +49 9672 9221 0
verwaltung@anka-draht.de
www.anka-draht.de
Crystal clear distillate thanks to "Clear Cat"
The innovative "Clear Cat" technology, which is based on physical, catalytic processes, drastically reduces the hydrocarbon index of the distillate. No consumables or chemicals are needed in the process, making the "Clear Cat" technology extremely economical and low-maintenance. The distillate from conventional vacuum distillation systems requires expensive and maintenance-intensive treatment in activated carbon filters and diaphragm systems, or coalescence separators. The "Vacudest Clear Cat" system distillate, on the other hand, is crystal clear and virtually oil-free. Depending on requirements, it can be discharged immediately or recycled in the production process.
How does vacuum distillation work?
Vacuum evaporators are based on the simple principle of separating substances according to boiling point differences. The industrial wastewater is evaporated. All substances with a boiling point higher than water remain in the evaporation residue. This includes heavy metals and salts, but also oils, fats and surfactants. Because the water content is evaporated, the volume of the residue from the vacuum distillation is reduced to 0.5% to 5% of the original wastewater volume. The rising steam, also known as vapour, is virtually free from impurities. After condensation, it can be recycled in the production process as process water. Production therefore becomes wastewater-free.