04/12/2020 –
Preventing rebars corrosion with "Ugigrip" special steel
Permanently protects buildings
Rustproof and durable – in the construction industry, the requirements for reinforcement, anchoring and fastening are stringent. The rebars made of conventional reinforcing steel used in structures usually start to corrode after a few years. "Ugigrip" rebars prevents this process.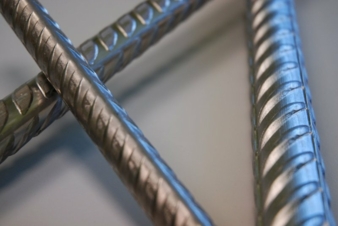 Ugitech, a company of the Swiss Steel Group, has developed a duplex stainless rebars with exceptionally high corrosion resistance. These special steels also has special mechanical properties that protect building structures for decades.
Whether for multi-storey car parks, prefabricated concrete structures or constructions in the maritime sector: "Ugigrip" rebars is suitable for many applications in various industries thanks to its special properties. Bars and wire rods made of Ugitech stainless steel have a high yield strength of over 500N/mm² and meet the requirements of Eurocode 8, Class M for earthquake-resistant constructions. They offer improved fire resistance compared to conventional steel rebars and are therefore creep and stretch resistant – even at high temperatures. A low thermal conductivity of 15W/(mK) prevents thermal bridges and minimises heat loss. The homogeneous steel surface and formation of the passive layer between the metal and the surrounding medium result in the maximum corrosion resistance of Ugigrip rebars. Extreme chloride loads, for example from de-icing salts or contact with seawater, cannot therefore harm these stainless reinforcing steels.
Customers benefit from these new steels grade in several ways: They can dispense with corrosion protection measures, minimise maintenance costs and considerably extend the service life of structures. Furthermore, it is also possible to realise lighter constructions by saving on concrete and reducing the concrete cover.
Ugitech offers Ugigrip rebars in different qualities. The company in the Swiss Steel Group recommends the three variants 1.4062, 1.4362 and 1.4462 for use in structures prone to corrosion. These stainless reinforcing steels are also available as a non-magnetic variant for buildings with special requirements – such as airports or hospitals.
Ugitech S.A.
Avenue Paul Girod CS90100
73403 Ugine Cedex/France
Contact person is Frédérique Tissot
Tel.: +33 47989-3012
frederique.tissot@ugitech.com
www.ugitech.com
Swiss Steel Holding AG
Landenbergstrasse 11
6005 Luzern/Switzerland
Contact person is Andrea Geile
Tel.: +41 41 581-4121
a.geile@swisssteelgroup.com
www.swisssteel-group.com
About Ugitech S.A.
Ugitech, a company of the Swiss Steel Group, is one of the leading manufacturers of stainless steel long products worldwide. The company's main products include billets, bar stock, wire rod, and drawn wire that the company produces in its own steel mill and in its rolling mills and wire-drawing plants. The stainless steels are known for their excellent mechanical properties. They are used to manufacture a wide range of parts, such as e.g. valves, turbine components, welding wire or surgical instruments. With over 100 years of experience in steel production and ongoing metallurgical research, the company guarantees optimum steel solutions for demanding applications for its customers in the automotive, construction, process and aviation industries and medical technology.
About Swiss Steel Goup
The Swiss Steel Group (formerly Schmolz+Bickenbach Group) is one of the world's leading providers of individual solutions in the special long steel products sector. The Group is one of the leading manufacturers of tool steel and non-corrosive long steel on the global market and one of the two largest companies in Europe for alloyed and high-alloyed quality and engineering steels. With more than 10 000 employees and its own production and distribution companies in more than 30 countries on 5 continents, the company guarantees global support and supply for its customers and offers them a complete portfolio of production and sales & services around the world. Customers benefit from the company's technological expertise, consistently high product quality around the world as well as detailed knowledge of local markets.