13/08/2020 –
Cable manufacturing
Installation of a Pourtier drum twister line
The company Venine Cable Electric Wire Co. Ltd. is one of the most modern and leading manufacturers of high-quality power and communication cables in Thailand. They relied once again on the Sampsistemi leading solutions added a "Drum Twister Line DTPC 2600".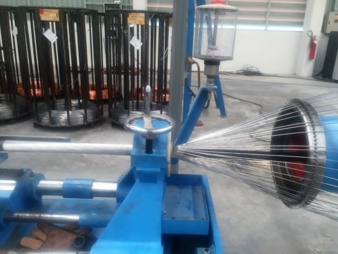 Venine Cable Electric Wire aims to boost his high- tech production of a full range of power and communication cables such as copper and aluminum wire, building wire, low-voltage power cables for control applications, high-voltage power cables for power transmission and distribution networks, as well as communication cables such as optical fiber. Their partnership with the Thai company has been strengthened over the years, sharing the common value of precision and excellent know how. This long partnership is underlined by the choice of Venine to continue to invest through Sampsistemi machines. Nowadays, inside the Ayutthaya factory there are:
– 2 Daloo rigid stranders 91 wires and 1 rigid strander 61 wires;
– 1 Pourtier single twist line 2000;
– 1 Pourtier drum twister line 2600;
– 1 Sampsistemi double twist line 1250;
– 1 Setic double twist line 2000;
– 2 Sampsistemi rod breakdown drawing machine lines.
They relied once again on the Sampsistemi leading solutions added recently, at the wide above list, a drum twister line "DTPC 2600". This new purchase request was driven by the need to produce steel wire armouring AL for medium voltage and laying up Al for Medium Voltage by ensuring an efficient and reliable productivity. The machine has been successfully installed in 2019 by the Pourtier technicians at the Venine Cable – Ayutthaya Factory.
Focus on the machine
Pourtier machine type drum twister line "DTPC 2600"
Required to main advantages
LV/MV cables: laying-up of Cu or Al conductors
LV/MV cables: solid or stranded
Cu/Al conductors (3, 4, 5, + cores), round or sector-shaped (straight or prespiralled)
HV cables (Milliken): laying-up of Cu conductors
HV MILLIKEN cables: segmental or sectorial prespiralled Cu (5, 6 or 7 cores)
Screening and armouring operations
Sampsistemi S.r.l.
Via Saliceto 15, 40010 Bentivoglio (BO)/Italy
Tel.: +39 051 6319411
info@sampsistemi.com
www.sampsistemi.com
Pourtier
Parc de l'Esplanade 1, rue Enrico Fermi
77400 Saint-Thibault-des-Vignes/France
Tel.: +33 1 64218400
pourtier@gaudergroup.com
www.pourtier-setic.com