22/04/2021 –
Online from 3 to 21 May 2021
"Innovation Days" virtually and live
Last year, Wafios successfully tested the safe execution of events under corona conditions at their first "Innovation Days" in Reutlingen. Restrictions will likely persist in the first half of 2021, despite global vaccination efforts. Therefore, this year's Innovation Days will be held again as a hybrid event – which means virtually from 3 to 21 May and live on site from 13 to 17 September.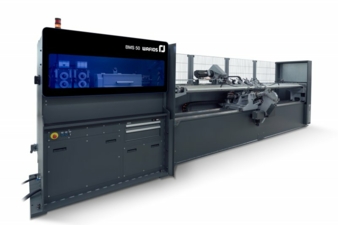 Subject to an unchanged infection situation, the three-week inhouse event will take place purely virtually from 3 to 21 May.Worldwide travel restrictions and quarantine regulations continue to make a personal visit nearly impossible for many customers and interested parties. Against this background, it will again be possible this year to book live machine demonstrations online for the duration of the event.
Besides tube bending machines, a large part of the machinery program will be made up of spring coiling and wire bending machines. There are numerous machines for almost all types of application available for demonstration. In addition, Wafios offers an extensive online lecture programme on all technical innovations for the entire duration of the event. Webinars tailored to individual customer needs are also possible. The live event on site at the Reutlingen headquarters has now been rescheduled for 13 to 17 September 2021. Once again, the requirement to register by name is an essential part of the organizational measures for ensuring that possible chains of infection can be traced. Visitors will be able to take a free, rapid Corona test directly before visiting the event. From now on, the Innovation Days will again take place every two years, alternating with "wire & Tube" in Dusseldorf/Germany, as it has become customary for all friends of the company.
CNC dual-head bending machine "BMS 50"
The CNC dual-head bending machine "BMS 50" for large wire diameters of up to 10mm and shortest center straight sections will make its world premiere with a newly developed solution for the inline chamfering of both ends of straightened rods before the bending process. Due to the CNC-controlled rotary gripper that enables a large bending space and short center sections, the BMS 50 can be used for the production of a large variety of parts. High precision and quality is guaranteed by the highly dynamic, servomotor-driven rotary straightening system. The wire bending machine is equipped with process optimising functions like "iQsmartbend", quick programming via STP and IGES files as well as a geometry-based programming parts.
New chain bending and welding machines
The new chain bending and chain welding machine generation is growing: the chain welding machine "KEH 5.2" will be premiering at the Innovation Days. The new generation of machines unites decades of experience in mechanical machines with today's chain material requirements that include 20% higher tensile strengths, from 750N/mm² to 900N/mm², or even 1,000N/mm² for small stainless steel wire diameters. The newly developed chain bending machine "KEB 4.2" combines conventional production techniques with modern servodrive technology which makes it an important milestone in chain production. The software-supported machine monitoring system supports the operator in case of errors, synchronizes the bending and welding machine and reduces rejects.
Successor of the legendary "ZO" series
The extension spring machine "ZO 26", the successor of the legendary ZO series, has only recently been launched. It features a completely revised looping plate for the production of all kinds of loops. The possibility to adjust the loop geometry, a simple readjustment in case of deviations caused by the material used as well as tool changes with a high repeat accuracy are more of its new features. The machine concept has been completely redesigned based on decades of experience gained from more than 600 ZO machines delivered worldwide. It stands for maximum reliability in meeting today's extension spring production requirements. The reliable looping plate technology guarantees a highly flexible production of loop shapes. It can be set up outside the machine. Existing looping plates of the predecessor machine ZO 23 can continue to be used.
Ring coiling machine
Wafios also recently premiered the ring coiling machine "SNA 16" with a new pitch device which enables a programmable wave height that deviates from the sine wave and with the possibility to produce different waves within one component. Thanks to an increased production output and machine availability, unit costs are optimised. Different cutting techniques enable an exceptional variety for the production of rings and wave springs of the most diverse geometries. The high-end control WPS 3.2 EasyWay with predefined programs for rings and wave springs offers maximum operating convenience.
CNC spring coiling machines
With a speed of up to 600m/min, the "FUL 26+" and "FUL 36+" (4speed) CNC spring coiling machines reach speeds that have never been reached before in the production of compression springs. The modern and future-oriented machine design offers enhanced ergonomics. Besides a high output, the FUL+ 4speed series features the high quality standards known from the FUL series, like e.g. zero-defect production, the programming system "WPS 3.2" and numerous iQ functions for more efficiency by intelligent process control.
CNC Spring and wire forming systems of the FMU+ series feature new programming options without limits. Due to an external programming station, programs can be generated independent from the machine by a central work planning department. Advantages already arise during the product and feasibility evaluation before the actual production is started. For this, the standard machine already has a 3-year license of iQspring+ for the simulation of the production sequence, collision control, theoretical calculation of the output and reduction of axes travels. The FMU+ series has a performance increase of up to 10% compared to the previous series. Preview: First digital preview of upcoming CNC spring coiling machines "FUL 126" and "FUL 226" for the production of suspension springs.
Automation and spring end grinding
From the automation and spring end grinding area, Wafios will show, among others, the modular automation kit for additional operations used in wire bending, spring coiling and busbar production. One of the highlights will be the new development of an automatic loading unit for square springs with L/D ≤ 1 at the "G 660" dual-plate spring end grinding machine. The new IoT software solution SmartGrind provides the operator with all grinding parameters at any time. For an optimal configuration of the grinding process, this application automatically generates suggestions for an economic grinding process.
In addition to the different machine presentations, customers will have the chance to learn more about numerous new developments from the iQ family for process optimizations and new digital solutions, like e.g. the IoT Suite or the Webshop light. Retrofits for a more sustainable production will be presented: for example, new retrofits for the torsion spring machine "FMU 1".
Numerous tool developments, like the Modular Bending Set (MBS) – the tool box for more than 1,000 tool combinations and every bending requirement – new coating solutions for longer service lives and rotatable coiling inserts (RCIs) for smallest wire diameters complete the exhibition program.
Connectavo presents the digital maintenance assistant that enables an intelligent planning of all maintenance work as well as the transfer of maintenance know-how. Individual lectures – live as well as online - will await visitors, making the exhibition really worth their visit.
Register now for the Wafios "Innovation Days" at https://innovation-days.wafios.com
Wafios AG
Silberburgstrasse 5
72764 Reutlingen/Germany
Tel.: +49 7121 146-0
sales@wafios.de
www.wafios.com