31/05/2021 –
Cable production
Inductive conductor preheater with automatic inductor change
GH Induction has developed a fully automated cable/conductor preheating system that avoids the risk of production losses due to human errors and greatly increases the production reliability in CCV and CVC production lines for MF and HF cables.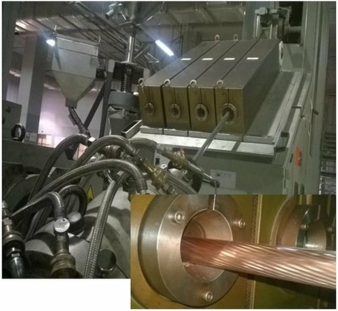 The automatic inductor change is the key, which also offers ergonomic advantages.
Advantages of induction heating
Induction heating is the process of heating an electrically conductive material by inducing eddy currents in it and is used to heat, harden, bond or join metals. For modern manufacturing processes, induction heating offers an attractive combination of speed, energy efficiency, accuracy and control.
Cable Applications
Induction heating is a gentle, non-contact and environmentally friendly solution. This process has become widely accepted for heating conductors and is ideal for many different tasks in the manufacturing of wire and cable products. Since the heat is generated directly in the cable without contact, the cable surface remains perfectly smooth and scratch-free. The insulation and jacketing processes of high and medium voltage cables, submarine cables, mining cables and other power cable applications are a perfect example of processes where induction heating offers exceptional benefits.
Preheating of conductors
In particular, inductive preheating of conductors is used for applying insulation layers (extrusion) to achieve high quality insulation at high production speeds. Why is inductive heating so important in this process? In order to apply the cross-linked polyethylene (XLPE, XLPE) insulation, it is extremely important to cure it homogeneously. There may be gaps in the material which may lead to insulation breakdown due to the high voltage flowing through the cable. The layer is relatively thick, so it is difficult to cure the insulation only from the outside. In this case, it would be necessary to run the cable through a long heater at a very slow speed to cure the material. However, if the conductor is heated before the insulation layer is applied, the insulation material is also indirectly heated from the inside by the heat given off by the conductor. With induction heating, it is therefore possible to apply a homogeneously cured insulation layer at a high production rates.
For cable manufacturers producing different types and diameters in the same line, a rack with multiple inductors is highly recommended. With the automatic configuration, manual intervention such as changing, as well as venting and reconnecting the inductor are avoided. The conductor preheating can be controlled remotely without manual intervention.
Industry trend
More and more cable manufacturers are looking for solutions to increase production reliability and to minimise human error in production to avoid costly production downtime.
The automatic conductor/cable preheaters from GH Induction offers many advantages:
1) Error prevention:
– Avoidance of failure due to incorrectly connected coil assemblies (too tight / too weakly tightened).
– Avoidance of failure due to the use of the wrong inductor (configuration "fully automatic").
– Avoiding water leaks due to not having to reconnect water lines.
2) Ergonomics: The inductor does not have to be changed with the aid of a crane or physically lifting. The risk of injury to employees is reduced to a minimum.
3) Process automation: The heating can be controlled and monitored remotely.
4) Storage: The inductors can be stored directly on the rack
GH Induction has built an inductive conductor preheater with "semi-automatic" inductor change for the company Vatan Kablo (Turkey). In this configuration, the inductors only need to be manually moved to the heating position where the conductor is located. There is no need to connect the inductors, power connections and water lines, when changing to a different cable type. Each inductor is supplied with its own cooling lines and the cooling water is switched using solenoid valves. For switching the electrical connection, each inductor has a connection jaw. After the inductor is moved into the working position a pneumatic cylinder closes providing power to the inductor from the power supply.
Various automatic solutions: The "fully automatic" system eliminates the need for manual positioning of the inductors. They are moved automatically by a gear motor driven ball screw. Both systems, "semi-automatic" and "fully automatic", are available in vertical or horizontal versions. GH Induction adapts all systems to the customer's requirements and to the available space. This year, in addition to the automated system, GH is introducing other new and exclusive features that increase the quality control of the induction heating process.
Author is Sarah Kloster, Product Manager Cable&Wire at GH Induction.
GH Induction
Vereda Real, s/n, San Antonio de Benagéber 46184/Spain
Tel. ES: +34 96 135 20 20
Tel. DE: +49 627 292 1610
Vatan Kablo
Perpa Tic. Merk. A Blok K: 11 No: 1385
Okmeydani, Istanbul/Türkei
Tel.: +90 212 2103331
About GH Induction
GH Induction Group is one of the most experienced companies in the world in induction heating, with its headquarters in Valencia, Spain. Renowned cable manufacturers are using GH Induction conductor heaters in their production. Worldwide, in over 30 countries, GH Induction Group has supplied the most important cable manufacturers and integrators with over 200 installations. GH Induction Group is a solid and innovative company with more than 4,000 customers and more than 60 years of international experience, innovation, expertise and is a trendsetter in induction technology.