02/11/2023 –
Wire processing / rewinding
Impressive program of rewinding machines and payoffs for wire
Wardwell, long known for its line of braiding machines, offers an equally impressive program of rewinding machines and payoffs for wire.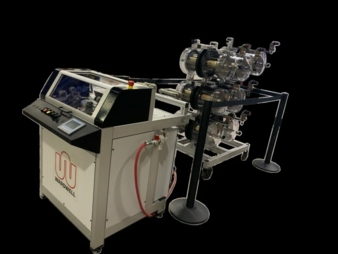 The model W8-905, pictured here, comes in 2, 3 or 4-spindle versions and pairs easily with static, flyer and dynamic payoffs.
The semi-automatic winder is operator friendly with waist-high operation, lift door with interlocking switch for safety, ample room for the loading/unloading of bobbins and pneumatic pintles for effortless operation. It is equipped with a drop wire system for up to twelve ends/bobbin to detect the end or break of single wire strands and operates at speeds up to 6,000rpm in constant spindle speed or fixed, linear wire speed.
The Siemens "KTP 400 HMI" system is password protected and displays messaging for alarms, data setting and operation data. It allows the operator to enter bobbin dimensions, number of wire layers, winding speed, pitch, and control the optional wire lubrication system.
In concert with Spirka, a Wilms Group partner, Wardwell also offers:
– model "W8-905-2E" with 2 individually driven spindles for winding flexibility, where each spindle accepts a different bobbin
– model "W8-910", single position winder with traversing bobbin for steel wire
– model "W8-942S" is fully automatic and comes in 2 and 4-spindle versions
– model "W8-945A" is configured with 4 individually driven spindles and a dancer to split wires from a multi-wire reel(s)
Wardwell also offers static payoffs for 150mm, 200mm and 250mm single end spools to feed the winders. The dynamic payoff option accepts 200 mm and 250 mm spools with single end wire.
A member of the Wilms Group – which includes SKET, Henrich, Spirka-Schnellflechter and Stolberger, and other carefully planned alliances – Wardwell continues to provide products and services designed to meet today's new, demanding applications for braiding technology.
Wardwell Braiding Co.
1211 High Street, Central Falls, RI 02863/USA
Contact person is Cynthia Tomaz
Tel.: +1 401 724-8800
sales@wardwell.com
www.wardwell.com