06/03/2023 –
Straightening extra fine wire and microtubes
A highly reliable and extremely precise process
Besides coilers, Simplex Rapid manufactures straightening machines as well. All their products meet the highest standard of precision, which has become a trademark feature of their brand. The high repeatability of the process makes it reliable and once again confirms Simplex Rapid's commitment to quality.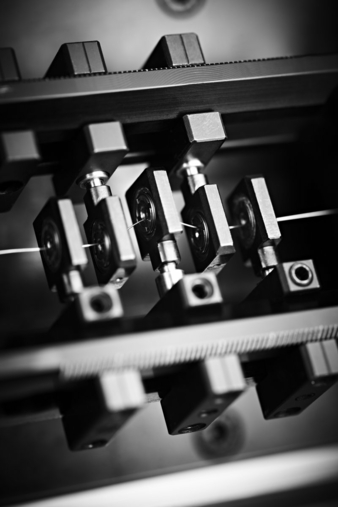 The "APR 1000" is able to straighten fine wires and microtubes with extreme levels of precision. With a working range from Ø 0.1mm to 1.0mm and a feeding speed up to 20 meters per minute, this straightening machine is highly appreciated and often employed in the medical field, as well as aerospace and microelectronics. It is possible to achieve a tolerance of only ± 0.05mm on the length of the cut, along with a very high productive output up to 1,000 pieces per minute.
 The straightening machine has been developed in the year 2000, after the successful partnership between AP-Technologies (Audemars Piguet Group) and Simplex Rapid. The partnership allowed Simplex Rapid to acquire the necessary know-how to manufacture this straightener. The wire goes through two straightening flyers, which can be set at different rotating directions and speeds (up to 10,000 rpm). Thanks to the five independent brushless motors and to the easy and user-friendly touchscreen interface, each parameter can be managed and adjusted even if the machine is working.
 Simplex-Rapid normally supply a standard V-guide suitable for the collection of bars up to a length of 1,000mm. On demand, they can quote V-guides with different lengths up to 8m. For very short wire bits, as for suture and syringe needles, they provide a special "RS1" accessory machine to attach to their straightening machine. With the "APR" straightening machine's high reliability, customers will be able to go on with production without supervision, even during closing times, and collect the lot in an organized solution with dedicated containers.
Simplex-Rapid S.r.l.
Via Lombardia, 13
20098 San Giuliano Milanese, Italy
Tel.: +39 02 98281751
info@simplexrapid.it
www.simplexrapid.it