01/10/2021 –
Interlocked armor on cables
Next generation "V16" strip armouring machine
Roteq Machinery will present its full range of capabilities ranging from "double twist tape shielding lines" to 84" "single twist machines to optical cable stranding lines" and auxiliary equipment.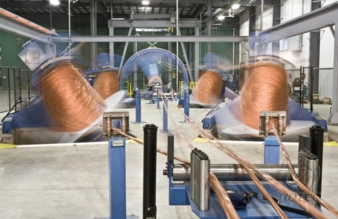 Featured will be Roteq's next generation "V16" strip armouring machine" for production of interlocked armor on cables up to 2in. / 50mm in diameter. The V16 provides manufacturers with significant improvements to overall equipment effectiveness (OEE). Machine operators experience easier setup and pad changes, and a healthier environment. Preventive maintenance requirements are drastically reduced while machine reliability is enhanced.
For manufacturing optical cables and hybrid cables, Roteq presents cabling technologies including Drum Twisters, Planetary Cablers, and SZ Cablers.
Large conductor manufacturers are offered Roteq's technology for compact aluminum conductors made with individual strand roll forming in-line with the strander. This system deployed with a Roteq Single or Double Twist Strander for production of Single Input Wire (SIW) conductor provides exceptional productivity with minimal work-in-progress (WIP). For stranding large compact and compressed copper conductors, Roteq offers Concentric, Single Twist and Double Twist stranders.
Each project starts with the product and process requirements, culminating with reliable production equipment specific to the wire and cable manufacturer's application.
Roteq Machinery, Inc.
Interwire 2021, booth 1631
 Tel.: +1 905 660-8800
www.roteqmachinery.com
About Roteq Machinery Inc.
Roteq Machinery Inc. develops and manufacturers rotating equipment for wire and cable, umbilical, and hose industries. The portfolio of completed projects span the full range of rotating equipment including armouring, stranding, cabling, taping, and includes auxiliary equipment for complete production lines. Roteq provides equipment, spare parts, and field service from its facility near Toronto, Canada.