17/10/2022 –
ZTT relies on Sikora's "X-Ray 8700 NXT" for efficient quality control
Final quality assurance of submarine cables
The Chinese manufacturer ZTT relies on Sikora's measuring and control devices of the "X-Ray 8000" product family for quality control in its CV line.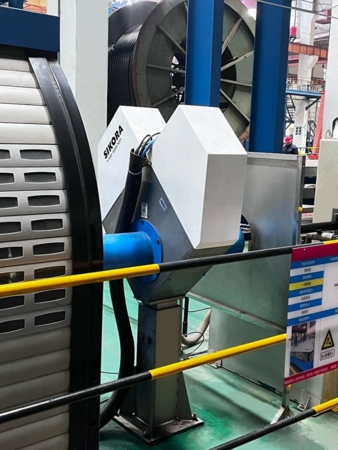 The immediate and loss-free transmission of data is a feature of our increasingly digital and globally networked world. In order to be able to transmit large amounts of data quickly across borders and even continents, submarine cables of the highest quality are required. During production, manufacturers of submarine cables face the challenge to produce cables for long distances with as few joints as possible, as these increase the risk of potential breakdown. To ensure the quality and durability of the cables, many manufacturers therefore rely on X-ray technology from Sikora for quality control in CV lines. Worldwide, more than 1,500 devices of the "X-Ray 8000" series are already in use. These precisely measure the concentricity, wall thickness, diameter and ovality of medium, high and extra-high voltage cables with up to three different layers.
The "X-Ray 8000 Advanced or NXT" models are installed at the hot position and immediately provide information for fast centering of the crosshead and automatic control of the parameters. In order to provide its customers with the highest possible quality of the submarine cables produced, the Chinese company ZTT also uses the "X-Ray 8700 NXT" at the end of the CV line for a final quality assurance. The system precisely measures the wall thickness, diameter and eccentricity of the submarine cables. This ensures that only faultless cables of the highest quality are delivered. The "X-Ray 8700 NXT" can be used for cables with solid, stranded or Milliken conductors with single, double or triple layer insulation. Furthermore, it is also suitable for quality control of insulation material based on polypropylene. By combining the "X-Ray 8000 Advanced/NXT at the beginning and the "X-Ray 8700 NXT" at the end of the line, the shrinkage values for all three insulation layers of the cable can also be determined. This ensures an optimum process control.
Sikora AG
wire China 2022, booth 13 H 05
Tel.: +49 421 48900-0
www.sikora.net