03/02/2021 –
Online seminar on 10th February
NTT webcast "Cabling in the Data Center – Efficient by Design"
The Multimedia Solutions (MMS) BU of the Prysmian Group and its partners tde - trans data elektronik and Senko will be guests in the NTT Technology Experience Lab webcast on 10th February 2021 at 10 am.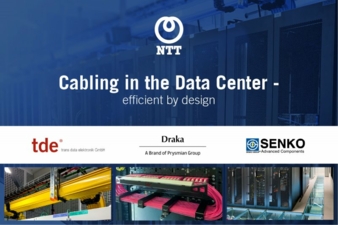 Under the title "Cabling in the Data Center – Efficient by Design", the cable and network experts will provide information about high-density solutions in data centres in their presentations. Participants of the webcast will learn first-hand how they can realise high-performance, future-proof and 100 percent fail-safe network infrastructures. Free registration and agenda at www.brighttalk.com/webcast/15381/464444
On the way to more sustainability, the green data centre is increasingly coming into focus. Innovative and efficient cabling infrastructures support this development. The use of improved dimensions, optical networks and cable miniaturisation are an important step towards a greener data centre. In the webcast, Dominik Friedel, Business Development Manager, NTT Global Data Centers, and experienced experts from Prysmian Group, BU Multimedia Solutions, tde and Senko discuss what the potential of optimised cabling infrastructures is, which technologies support the path towards Green IT and how suitable solutions can be applied. They will provide valuable insights and answer questions on these topics.
The focus of the presentation by Gerard Pera, Product Manager Fibre Optic Data Cables of BU MMS, is the topic "Fibre optic cable miniaturisation in high-speed networks". He will inform about the technological development of Draka fibre optic cables towards smaller and improved dimensions, densification solutions and other multimedia solutions for data centres and related applications. He also talks about the current state of parallel optical cabling.
In his presentation "High-density in Data Centres", Sascha Langer, Sales Consultant at tde, will discuss which cabling solutions companies can use to achieve more space density and space savings in the data centre. In order to be well equipped for the terabyte age, they should rely on reliable cables, innovative connectors in the patch area and the proven multi-fibre technology in the rear.
Jarno Franke, Sales Account Manager at Senko, talks about the advantages of compact CS and SN connectors: "Thanks to their up to 40 percent smaller form factor compared to comparable LC duplex connectors, the packing density in the patch area can be significantly increased.
NTT Webcast: "Cabling in the Data Center - Efficient by Design"
Wednesday, 10th February 2021, 10 am
Registration at www.brighttalk.com/webcast/15381/464444You will receive all further information after successful registration.
www.prysmiangroup.com
www.draka-cable.com