24/09/2020 –
Weaving technology
Woven cellular metals made of wires
A team of researchers at the TU Dresden has succeeded in producing three-dimensional cellular metals from wires with the help of weaving technology. The patented structure enables the production of metallic lightweight materials with a wide range of properties and offers new possibilities for lightweight metal construction.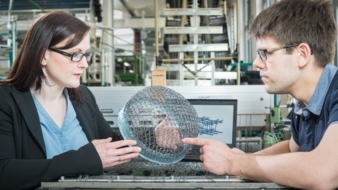 Lightweight metal construction materials
The use of metallic lightweight construction technologies offers a wide range of possibilities for the production of load-oriented and temperature-stable high-performance components. Cellular metallic materials represent the optimum of metallic semi-finished products with regard to the specific mechanical properties that can be achieved, especially with a view to flexural rigidity and energy absorption capacity. These include, for example, metal foams and metallic hollow sphere structures. The production of such materials has so far been very energy and cost intensive. Due to these manufacturing limitations, the use of these cellular materials have only limited use nowadays.
Automated production of cellular metals
The three-dimensional cellular metals made of wire developed at the Institute of Textile Machinery and Textile High Performance Materials Technology (ITM) at the TU Dresden can be produced fully automated and process reliable on a modified weaving machine. The cellular metals consist of two cover layers and at least one core layer.
Structural Variability
Through the systematic displacement of individual or groups of wires during the weaving process, the cells in the core layer can be realized with different geometries and connected with each other in a form-fitting connection (cf. Figs. 2 and 3). The joining of individual cell layers is possible as well as the connection with a closed top layer (cf. fig. 4).
In addition to round wires with diameters of 0.1mm to 5.0mm, flat wire with a thickness of 0.3mm and a width of 4.0mm was also successfully processed. The cellular flat wire structures can be produced by weaving without any further joining process. The weaving process allows variable core dimensions and closed or open cover layers (see fig. 5).
The cellular metals can be formed into any three-dimensional shape without parts of the structure collapsing. Thus, they can also be successfully used for components with curved geometries (cf. Figs. 6 and 7).
CAE-supported component development
CAD models are available for all structural variants. Since the wires are positioned exactly and reproducibly within the cell structure during processing, the existing models can be used with minimum effort and high accuracy for component development and design in the CAE process and FE-based simulation. This provides the best basis for software-based and user-friendly structure development and design in an industrial setting.
The researchers are currently working on the further development of cellular metals for light and fire-resistant crash structures for automotive and boat construction as well as metallic filters with tailor-made pore channels. They would be pleased to develop the cellular metals according to your requirements.
Authors: Daniel Weise, Cornelia Sennewald, Philipp Schegner, Michael Vorhof
Institute for Textile Machines and Textile High Performance Materials Technology at TU Dresden
Hohe Strasse 6, 01069 Dresden/Germany
Contact person is Daniel Weise
Tel.: +49 351 463-34408
daniel.weise@tu-dresden.de
cellular.metals@tu-dresden.de
http://tu-dresden.de/mw/itm