14/03/2022 –
The passion for innovation is shaping the wire of tomorrow
Wire-making and materials expertise
Suzuki Garphyttan's passion for engineering and innovation, always in close collaboration with the customers, is the soul of the global company's culture. This philosophy will continue to support the today more than 600 employees around the world in pushing boundaries into new directions.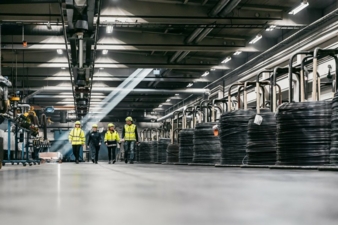 Over the course of its 114-year history Suzuki Garphyttan, now part of the Nippon Steel Corporation, has been contributing to the industry with customised products and solutions, especially within the demanding automotive industry. Here the company has enjoyed a market leadership position with its flagship – oil-tempered wire, stainless and shaped wire offering for various spring applications.
 "The manufacturing industry is constantly evolving, and we're evolving with it," says Manish Singh, Site Manager at Suzuki Garphyttan in Leeds, UK, and continues: "Our vision for the future is clear. Beyond combustion engines, we will invest in addressing the emerging needs of the industry and continuously develop our wide range of products and services in various alloys for use in the non-automotive and non-combustion engine areas."
Advancing the world
Suzuki Garphyttan is focused on advancing the world through engineering, continuously developing both customer offerings and core competencies. "We use our wire-making and materials expertise to make industrial applications and processes safer and more efficient, yielding greater performance and value while consuming fewer resources," Manish Singh notes.
 Shaped wire, the collective term for flat and shaped wire, is one of the segments in which Suzuki Garphyttan continues to expand its capabilities in line with customer needs. This means for example, investments in inhouse drawing and rolling lines, oil tempering and batch annealing furnaces at the sites in the United Kingdom, Sweden and China. "Our state-of-the-art drawing die-making and roll grinding set-ups enable us to support the customers with fast paced prototyping and new product development needs," says Manish Singh and adds that they safeguard product and material properties throughout the manufacturing processes by using the optimum starting material, advanced production technologies and a rigorous quality control.
Examples of shaped wire solutions
Here's a few examples of applications, with focus on shaped wire in various carbon and stainless steel alloys:
 Metallic card clothing
The profiles feature complex geometries and intricate shapes, tight tolerances, optimised mechanical properties and a high-quality surface finish needed for further processing as well as end-use in the textile industry.
 Linear guide
Suzuki Garphyttan's near net shape solution guarantees the straightness, wear resistance and dimensional accuracies for a reduced friction and a noise reduced performance.
 Retaining ring and various formed components
The development experience from the automotive industry, with maximum demands for surface quality consistency with a decarbon-free technology, formability, mechanical and dimensional tolerances are met with the in-house profile program. The end application can be within the automotive area, renewables energy segment and beyond.
 Electric vehicles
The joint development is characterised by the right selection of newer alloys and properties for the upcoming applications in the field of electric vehicles (EV)
 High pressure applications
The shaped wires for this space are specifically designed with high tensile and relaxation strength, weldability, dimensional accuracy and expansion resistance to ensure safe performance combined with longer life.
 Bedding and seating
Suzuki Garphyttan's flat wire offering comes with high resilience features needed for the border frames, together with its capability to offer premium quality small diameter round wires for pocket springs.
 Road sweeper
The wire cleanliness provides a safer and more efficient production environment for the customers.
 Helical fixing
This special profile is designed with high ductility and strength to achieve consistent twisting processes without breakages and to provide optimal dimensions and strength for safety-critical end uses.
 Pop-up tent
This jointly developed flat wire product offers superior bending and ductility properties to ensure repeated usage without breakages, user safety and worry-free functioning.
wire 2022, hall 12 booth D 71-72
Suzuki Garphyttan AB
Bruksvägen 3
719 41 Garphyttan, Sweden
Tel.: +46 19 295-100
info.se@sg-wire.com
www.suzuki-garphyttan.com