28/05/2022 –
Cable production
Setup to save energy
Are you looking into ways to make your power cable production more energy efficient? Take a closer look at polypropylene. The thermoplastic material combines excellent properties that will take your production to a higher level. Rosendahl Nextrom has put the material to the test and developed a whole manufacturing concept for it. The results are impressive.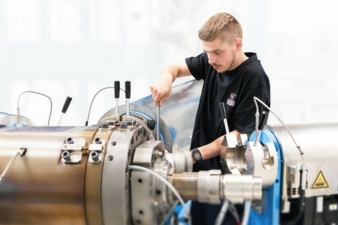 Polypropylene (PP) can be fully recycled. That is definitely one of its biggest assets and usually the first thing that comes to mind. But using PP has even more advantages when you have a look at the whole product cycle and manufacturing process.
Producing the raw material PP consumes around ten percent less energy compared to polyethylene (PE), which is traditionally used for power cable production. But this is just the beginning. Using PP instead of XLPE simplifies the entire line setup. The complex process of crosslinking is eliminated completely. That leads to significant energy reduction and a much shorter and more compact line layout: you can save up to 40% in length and up to 60% in height. Not bad, is it? In addition, PP allows you to dispense with the energy-intensive degassing at the end of the manufacturing process. That also results in much shorter lead times.
PPC has definitely arrived. And it's here to stay
The R+D unit of Rosendahl Nextrom teamed up with HV Cable Solutions Ltd. Together they investigated and tested polypropylene-based compounds (PPC) in comparison with the well-established XLPE insulation material in medium-voltage cables. A large volume of test cables was produced using Rosendahl's RM-A line under real manufacturing conditions. The results are outstandingly positive and verify the properties of PPC:
1. Excellent electrical behavior (equal to or better than XLPE)
2. Significantly reduced scrap rates
3. Reduced operating costs and typically lower insulation system costs
Full manufacturing concept from one source
Rosendahl's Superior Extrusion Technology (RoSET) is the perfect all-in-one setup for MV power cables up to 30kV. It combines all the aforementioned advantages while saving a vast amount of energy. If you choose RoSET, you not only get a premium triple-layer insulation line, but also intensive process and material know-how and a PPC starter package to work with. On top of that, it comes with a cable performance guarantee. That's everything you need to take the next step towards more efficient and energy-friendly production.
wire 2022, hall 9 booth A 60
Rosendahl Nextrom GmbH
Schachen 57, 8212 Pischelsdorf, Austria
Contact person is Bianca Kranz
Tel.: +43 3113 5100-253
bianca.kranz@rosendahlnextrom.com
www.rosendahlnextrom.com