10/06/2022 –
Automated winding system for ultra-fine wires
Perfectly wound ultra-fine wires
Kurre Systems has launched a new automated winding system for ultra-fine wires from diameter 0.05mm onwards. The machine consists of a pay-off unit and a take-up unit.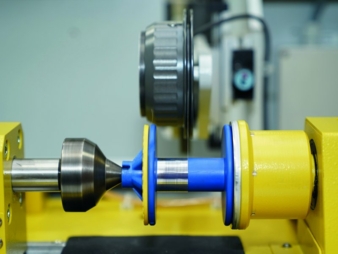 The automatic machine simultaneously winds up to 12 ultra-fine wires onto a braider spool at a maximum winding speed of 600 m/min. The spools are wound for later use in a braiding machine.
 The automatic take-up is available as a single or double winder with an empty and a full spool magazine for up to 36 spools. A special feature of the machine is the handling of the empty bobbins. They are automatically measured in tenths of a millimetre. They are also optimally positioned or sorted out. In addition, the measured values determine the laying correction. Kurre has significantly reduced the workload for the operator here. Manual handling of the SNAP ring is no longer necessary. In addition, the adjustment of the laying roller width is also automated. Active tension measurement and control ensures optimum processing of the individual wires into a shed bundle. In addition to classic metal wires, the automatic winder can also be used for plastic products (e.g. PTFE).
wire 2022, hall 10 booth B 22
Kurre Systems
Industriestrasse 5, 26683 Saterland-Ramsloh, Germany
Ansprechpartnerin ist Kerstin Wrage
Tel.: +49 4498 9250 – 450
kerstin.wrage@kurre-systems.de
www.kurre-systems.de