28/09/2023 –
Fasteners
Noise reduction wooden screw
The Ewes Group has its headquarters in the southern Sweden, where, as with its subsidiaries in Bosnia, Serbia and China, they produce wire and strip steel springs. Or as the company puts it: Springs move the world.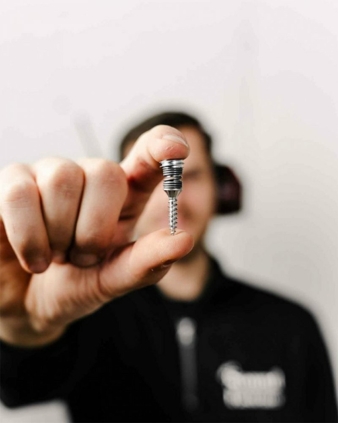 Ewes "Sound Fastener" (SF) is a noise reduction wooden screw that is ingenious in its construction. Sound Fastener is a Swedish invention produced by Ewes. Basically, SF screws are fastened into a plasterboard against a wooden joist. SF creates a one-millimetre gap between the wooden joists and the 12.5mm plasterboard, with the help of the unique SF spring. This effectively reduces the propagation of sound waves through walls or roof constructions.
Noise reduction wooden screw
The SF screw has been tested by Research Institutes of Sweden (RISE), with a measured effect of 9dB. This is virtually half of the perceived noise level! When plasterboards are equipped with SF screws, any ambient noise, footsteps, talking and so on is very efficiently reduced.
Perfect for walls adjoining equipment rooms, conference rooms, and the like. Customers can put up tiling, shelves, pictures etc. on SF walls. This does not affect the noise reduction.
Customers can already buy the screw from Ewes (www.soundfastener.com). The launch took place in Sweden, and now talks are in progress with interested small home builders, construction chain stores, national construction companies and many more. In the meantime, at Ewes they continue to work on test documentation with RISE. Ewes want to document, among other things, the effect obtained when double plasterboard is used.
Ewes has made a major investment in their press department. In addition to expanding their raw materials storage depot, Ewes created a completely new production layout.
It was necessary, considering all of the investments in equipment:
– spring sanding machine, x 3
– tool grinding, x 1
– greater pressing capacity, x 1
– CNC spring machine, x 1
– reinforcement on the strip side, x 1
– NC machine, x 1
These investments are preparing Ewes for the future, and they also create opportunities for their customers. The investment in the super-rapid NC machine made by Bihler "GRM-NC" has resulted in a reduction in tool costs of up to 70% for instance!
Ewes AB
Lundavägen 53
333 71 Bredaryd, Sweden
Contact person is Anton Svensson
Tel.: +46 370 86700
order@ewes.se
www.ewes.se
About Ewes
Ewes' vision is for everyone to understand that springs move the world. For over eighty years, Ewes has been creating springs for different purposes and products. The company has never renounced its Swedish roots, choosing instead to export its unique spirit. Determined and curious, we deliver solutions that incessantly testify to our genuine knowledge of spring technology. Since 1964, the company has broadened its base, with production and advisory services for components for purification and filtration for the process industry. In addition to the parent company in Bredaryd, they have subsidiaries in Bosnia, Serbia, and China.