18/03/2021 –
Wire processing / joining / welding
New generation of machines for mesh cable trays
Two months after commissioning, the new production line "Ideal FSD 092" wire has surpassed the expectations of customers and developers. With this innovation Ideal-Werk and OBO Bettermann have created a new standard for the automated production of cable trays.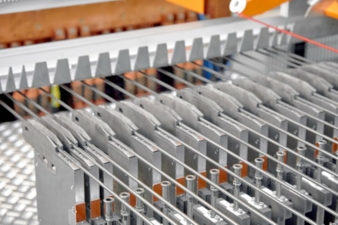 The semi-automated production line is a joint development of Ideal-Werk and OBO Bettermann. It has a "GA-800" welding portal, a quick set-up, longitudinal wire loading, pick-and-place feed of the cross wire as well as a nibbler and a punch for wire cuttings.
"We're delighted that our joint venture with OBO Bettermann was implemented so successfully", said project engineer Andreas Brühmann from Ideal-Werk. Based on experience gained from the existing systems, the latest knowledge and state-of-the-art developments were integrated in the new system together with OBO Bettermann.
System concept
Beginning with the automated wire loading for longitudinal and cross wires, the wire distances in the feed area are adjusted 100% automatically with servo technology. The dual-circuit welding portal design with medium-frequency technology enables welding of combined cross-sections without electrode change and with excellent quality of the welding results. The cross wire feed is carried out by a pick-and-place system with a servo motor, which can process non-magnetic wires (stainless steel) as well. "The overall concept ensures that fewer components need to be adjusted, that partial areas are set up automatically and the production line is more easily accessible for set-up", explains Brühmann the system concept.
Machine operators benefit
"The new machine design of the 'FSD 092' also features improved ergonomics", said Marius Eifler, Project Manager with OBO Bettermann. "This is something the machine operators benefit from considerably." The entire project process, from design to commissioning, was a major undertaking that the two companies pulled off together. "After the first few months in production, we are more than satisfied with the new line", Eifler underscored. In particular, he praised the comparatively short commissioning time at the Metall-Kompetenzzentrum (MKZ, Excellence Centre for Metall) and the smooth lines of communication between the two firms.
After this successful collaboration project, executives at Ideal and OBO are already plotting further plans. "Before the end of 2020, we will again integrate a jointly designed system, in a different production area, with the production process at OBO Bettermann", Brühmann announced last year.
The "Ideal FSD 092", can be experienced at: www.ideal-werk.com/en/products/wire-products/type-ga-mesh-welding-machines/
Ideal-Werk C.+E. Jungeblodt GmbH+Co. KG
Bunsenstrasse 1, 59557 Lippstadt/Germany
Tel.: +49 2941 206-219
info@ideal-werk.com