14/09/2021 –
Spring materials
High-performance spring wire
Springs are a unique solution in many modern products, from the high strength performance requirements of heavy equipment and transportation, to the rapid flexing and space constraints in electronics, firearms and other small objects. This creates engineering challenges for manufacturers, and Central Wire has the products to solve these problems.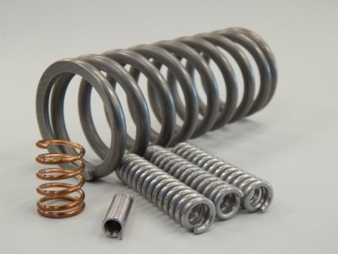 Central Wire Industries is one of the world leaders in wire and wire rope manufacturing. Their specialised "17-7 PH" and "X-750" alloys are popular choices for aerospace, automotive, petroleum and other industries. A profiled wire offers technical advantages over a round wire.
Creating spring wire value through specialty alloys
Central Wire Industries is one of the world's fastest growing wire manufacturers, drawing a broad range of stainless steel, nickel and red metal wire. With 13 locations around the world, they are able to meet custom product requirements from diameter to packaging options.
 Spring wire is just one of the many products they produce. Their high-performance spring wire will perform with enough strength, resilience and environmental resistance in all sizes, applications and end products. Central Wire has the capability to produce spring wire for any application, as the process is controlled from rod breakdown to finished packaging under one roof.
Technical details
One such area of expertise is the sheer number of alloys from which CWI can draw wire. Their "17-7 PH", or "Type 631" (UNS S17700), wire is one popular choice for consumers in the United Kingdom and internationally. 17-7 PH is a chromium-nickel-aluminum precipitation hardening stainless steel. It's an ideal alloy for applications that require good formability, high strength/hardness, good corrosion resistance and minimum distortion upon heat treating. The alloy also provides excellent properties for flat springs at temperatures up to 315°C (600°F). This alloy meets the following industry specifications: ASTM A313, EN 10270-3, ISO 6931, and AMS 5678G specifications. CWI UK can supply 17-7 PH for sizes from 0.80mm up to 19mm in diameter.
 Another specialized alloy provided by Central Wire is the "X-750". X-750 is a precipitation-hardenable nickel-chromium alloy that is used for its corrosion and oxidation resistance and high strength at temperatures to 704°C (1300°F). After heat treatment, alloy X-750 will have a thin oxide coating. This coating is beneficial to many corrosive environments. This alloy meets the following industry specifications: ASTM B637, AMS 5699, and AMS 5698 ANSI / NACE MR0175 / ISO 15156 specifications. CWI can manufacture X-750 in sizes from .60mm to 20.00mm.
 These alloys function effectively in multiple industries. From aerospace to mining, CWI is proud to supply trades all across the world. The 17-7 PH alloy is used commonly in automotive, aerospace, chemical processing equipment, oil and petroleum refining equipment and food processing equipment. The X-750 alloy is used in a wide variety of industries and applications, like in gas turbines, automotive and airframe applications, heat-treating fixtures and forming tools, extrusion dies and test machine grips.
The 17-7 PH and X-750 alloys are just two of many offered by Central Wire. Contact them to learn more about our full line of stainless, nickel and red metal alloys. A wire's alloy or chemistry is not the only consideration required when creating spring wire. The shape of the wire is an important aspect when it comes to your application. Not all springs are made from round wire. Profiled wire can offer alternative design solutions and properties. For example, a flat wire can produce a more tightly coiled spring. A wedge-shaped wire formed into a spring can also serve filtration purposes.
 Not sure which alloy, dimension or wire shape is right for your spring? Contact a member of the knowledgeable sales department through our UK website at centralwire.co.uk or our new German website at centralwire.co.uk/de. At Central Wire Industries, they've been drawing on innovation for over 60 years.
Central Wire Industries UK, LTD.
Primrose Park, Greasbrough Rd,
Rotherham, S.Yorkshire S60 1RH
United Kingdom
Contact person is James Wright
Tel.: +44 1709 37-6625
sales@centralwire.co.uk
https://centralwire.co.uk/