22/03/2023 –
Windak's "FC" series of automatic coiling machines
Flexible and versatile coilers
One of the Windak top products is the "FC" series of automatic "Flex Coilers". Why this type of equipment is in great demand among their customers? The answer is below.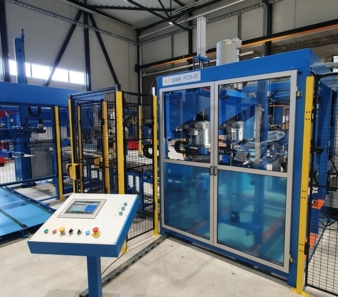 The design of the "FC" flex coiler makes it one of the most flexible and versatile coilers available. Horizontal single or dual head automatic coil and packaging machines "FC" model are able to accommodate a wide range of product diameters and coil OD's from 120mm (4.7") to 480mm (19''). All movements are controlled by precision drives and motors to ensure full control of the coiling process and maximize the output of the machine. The coiler winds the coil and stops the coil at pre-set length.
Windak "FC" series of automatic coiling machines can handle medium-sized building wire products, round cables, flat cables, LAN cable, Coaxial, Fiber Optic, Signal cable, Hose with diameters from 2mm to 20mm.
The main features of that machine model are:
– flexible range of cable sizes and Coil OD's
– integrated stretch wrap system in coiling head, which is especially suitable for flexible products.
– all movements are controlled by precision motors and drives.
– height/width adjustment is motor-driven and set via the recipe menu.
– quick change over between product sizes
– operator friendly, safe and ergonomic
– optional shrink wrapping, boxing and palletizing
– precision winding and tension control
Windak OÜ
Treiali tee 3,
Peetri, Harjumaa,
Estonia 75312
Contact person is Olga Berlinberg
Tel.: +372 655 9411
olga.berlinberg@windakgroup.com
www.windakgroup.com