06/12/2022 –
New era for maintaining constant tension in stranding processes
Control of wire tension
The monitoring or control of wire tension is of vital importance for manufacturers, and is especially true when it comes to offering the consistently high product quality demanded by their customers. The aim is to always be able to offer the best products at competitive prices, and this requires wire processing machinery operating at peak performance.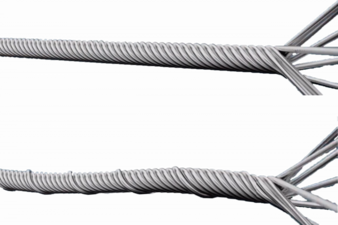 Since the introduction of the "RTM X42" telemetry system, many customers have been able to add value to their existing, and sometimes obsolete, machines. They now benefit from the functionality of this unique and easily retrofitted system.
Significant improvements can be obtained in the following areas:
– Increased productivity through drastically reduced downtime with reliable, continuous, automated control
– Highest product quality; all strands within the required tension specification
– Highest process stability; highly stable strand tension due to repeatable and individual production parameters for each product
– Support for the operators by eliminating the sole responsibility for important production parameters, and simple operation of the system
The measurement of strand tension in wire processing operations has been a specialty of FMS for decades. In that time we have adapted our force sensors and the necessary electronics to the special requirements of the wire and cable industry and the machines used.
Not only does the "RTM X42" drive productivity and quality, it's also easy to install. It can be fitted to all tubular and cage stranders as well as bow, planetary or armouring machines. No modifications to the machine are necessary and, because data is transferred via radio transmission, there is no need for external wiring.
Once in use, the system needs minimal maintenance. There are no moving parts that can wear, and the batteries can be recharged several hundred times before they need to be replaced. All devices are well protected from oil and other contaminants.
A system option includes a customized software for clear visualization of the actual measured values, parameter settings, recipe management and creation of quality reports. A universal interface to the customer's PLC for stable and reproducible production processes can also be integrated at this point.
In order to close the loop from tension monitoring to automatic tension control, FMS has developed a series of linear actuators which adjust each bobbin brake in order to maintain the desired strand tension.
Norbert Schilling, product manager at FMS, says: "By providing a dedicated, closed-loop tension-monitoring capability, the 'RTM X42' gives you constant control over this critical aspect of your production process and gives you confidence in the quality of your end product. At the same time, it increases throughput and reduces waste."
FMS Force Measuring Systems AG
Aspstrasse 6, 8154 Oberglatt, Switzerland
Contact person is Norbert Schilling
Tel.: +41 44 852 80 79
norbert.schilling@fms-ag.ch
www.fms-technology.com