30/03/2021 –
Wire processing / bending
Bihler: Mechanical engineering at its best
Kostal Kontakt Systeme GmbH is the very first company to use the new processing center "BZ2-S8" from Bihler.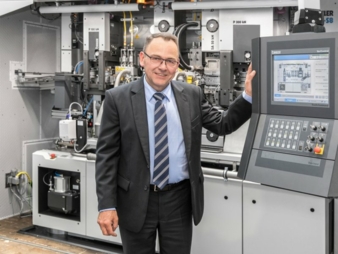 It operates at unparalleled speed and not only provides the power and performance that are critical in automotive connector manufacturing. More than that, it guarantees the zero-defect quality that is standard in the automotive industry.
If you bear in mind that a modern mid-range vehicle contains more than 2,000 electrical connection points then one thing becomes clear: Contact systems constitute a multi-billion parts market with high quality demands. In a modern car equipped with the latest safety solutions and highly demanding technologies, top-quality plug connections play a decisive role. It is for precisely this reason that zero-error quality is of central importance to the Kostal Kontakt Systeme GmbH. The company is part of the Kostal Group, which was founded in 1912, and has been manufacturing top-quality contact parts on various Bihler "BZ 2" processing centers for many years. "To manufacture economically despite year-on-year price erosion, we must focus clearly on identifying and exploiting potentials for improvement," explains Wolfgang Becker, Head of Production at Kostal Kontakt Systeme GmbH. "In the company of Bihler, we have been able to do this very well for many years and, with the new BZ2-S8, we will continue on this successful route in the future." The use of this system will make another noteworthy improvement in performance achievable.
Unique dual movement
There are very definite reasons why Kostal opted for cam technology and Bihler: "Here, we have to manufacture a single part that is subject to very high quality requirements absolutely reproducibly and in quantities of hundreds of millions. In such cases, mechanical solutions still have a very clear advantage because the curve always has the same rising and falling gradient," explains Becker. "Unlike other vendors, only Bihler offers the possibility of manufacturing using a dual movement via the slide units. This makes it possible to implement a stable manufacturing process that requires synchronized machining on two levels. Because the drive units are uncoupled from one another, we are independent of speed, quite unlike the case of the central eccentric drive in progressive processing technology."
Open, quiet and clean
However, the other new features of the "BZ2-S8" were also of decisive importance for Kostal. Becker: "The new mass balancing systems are extremely effective and ensure absolutely quiet running even at high speeds." In addition, by using a fully encapsulated system, the processing center completely eliminates the loads that result from an open lubrication system. Even though the further development of the drive system required considerable modifications to the structure of the machine, it was nevertheless possible to ensure tool adaptability. Consequently, the existing tools can still be used.
All-round reliability
At the same time, the new BZ2-S8 also meets the demanding requirements in terms of operating reliability that are of such importance for Kostal during the manufacture of plug connectors. "The worm shafts in the system are also mechanically coupled via bevel gears," explains Becker. This means: If a stepping motor, whether at the top or bottom, loses a pulse, the movements continue to be synchronized at all times. Another new feature takes the form of the camera systems that ensure a 100-percent quality check of every component to an accuracy of a hundredth of a millimeter. Becker is certain: "In this way we can continue to maintain our nonconformity rate of 0ppm, which we have now achieved uninterrupted for the last ten years, well into the future."
A genuine leap in performance
At Kostal, the new BZ2-S8 is complemented by the company's established traceability system. In this system, an integrated laser labels each part with a code that contains all the production and material data. Overall, with the new BZ2-S8, KOSTAL possesses an individually configured high-performance system that can go head-to-head with any existing progressive processing technology. Summing up, Becker says, "Thanks to its outstanding mechanical design, the BZ2-S8 provides a robust basis for high-quality mass production. We are convinced that with the new system, we can achieve the next genuine leap in performance."
Otto Bihler Maschinenfabrik GmbH+Co. KG
Lechbrucker Strasse 15, 87642 Halblech/Germany
Contact person is Vinzenz Hörmann
Tel.: +49 8368 18-280
vinzenz.hoermann@bihler.de
Kostal Kontakt Systeme GmbH
Zum Timberg 2, 58513 Lüdenscheid/Germany
Tel.: +49 2351 7894111
kks-de@kostal.com
www.kostal-kontakt-systeme.com