17/03/2022 –
Measurement and control instruments: the "SQM"
Solution for wire and cable surface defect detection
In 2021, Cersa released its breakthrough solution for wire and cable surface defect detection: the SQM.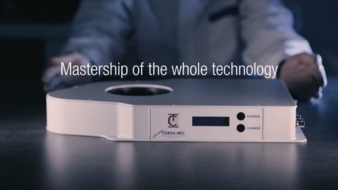 An equipment capable of detecting defects that may appear on the surface during the drawing or extrusion process. The new instrument offers high-resolution and real-time surface defect detection such as scratches, die marks, impurities, bubbles or particles on the insulation. It perfectly works for round product (20µm to 2000µm) and metallic surfaces. A complementary solution to our current offer to improve quality inspection. "SQM" will be highlighted on the Cersa booth at "wire" 2022.
Established in France in 1981, Cersa-MCI is a benchmark company in the field of measurement and control instruments. They design and manufacture high level measuring devices for fine-wires, cables and optical fibres. Cersa offer a portfolio of cutting-edge solutions to help customers enhancing their production quality. Advanced technologies such as interferometers, diffraction, cameras ensure high speed measurements and high accuracy. Their sensors are useful on-line and off-line for non-contact measurement applications.
 Mid '80s, Cersa launched its first device for fine wire measurement: the LDS, that still exists today, available in 1 or 2 axes for diameter monitoring during drawing process or for off-line measurements fitted with its accessories. "The best solution on the market for wires from 2mm down to 5µm." says Cersa.
 For extrusion process, Cersa provides the "LPS-3-H" to monitor diameter and detect lumps and neckdowns in a single product for larger wire and cable diameters (0.3mm to 5mm). An solution which mix a diameter gauge and a flaw detector in one box.
 Last but not least, Cersa produce optical fiber measuring devices: a complete solution to ensure high quality certification during drawing process. The largest and the most demanding companies, choose Cersa instruments to certify their production and master their processes. More than 500 high speed lines are drawing with Cersa-MCI instruments worldwide.
Cersa MCI
wire 2022, hall 10 booth E 59
Tel.: +33 4 42022947
www.cersa-mci.com