21/04/2023 –
Cable production
Rapid braider, winder and payoff
At "Interwire" Wardwell Braiding Co. will present a rapid braider, winder and payoff, on a joint booth with SKET, Henrich and Spirka. Remarkable technical advances are helping cable manufacturers to meet the new requirements of the industry.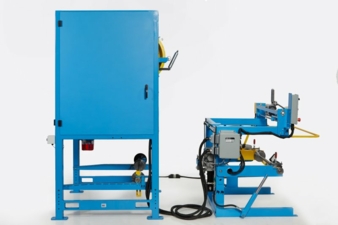 The 16 carrier wire rapid braider includes seven features that would have been considered optional several years ago. Today's cables are smaller in diameter, more prone to elongation and deliver higher electrical performance. The added features – sound enclosure with light and exhaust fan, variable speed drive, HMI, automatic lubrication, empty bobbin detector and core run-out sensor – make it easier to program and control the shielding process and reduce defects. The braider is equipped with integrated payoff and wind-up mechanisms for 800mm diameter reels.
Wire re-winding system: a 2-spindle, semi-automatic winder and a 14- position static payoff provides cable manufacturers with advantage and flexibility of winding their own wire onto various bobbin sizes. In lieu of long lead-time amid supply chain disruptions, the 2-Spindle Winder can support up to eight high-speed braiding machines at an affordable cost.
Interwire 2023, booth 1306
Stolberger Inc. dba Wardwell Braiding Co.
Tel.: +1 401 724-8800
www.wardwell.com