06/10/2021 –
Measuring and testing
Eddy current testers for detecting seams in wire
Magnetic Analysis Corp. offers a range of rotary eddy current testers for detecting longitudinal surface defects during slow throughput or high-speed production of wire and rod. At "Interwire" Magnetic Analysis will be exhibiting the "Rotomac 25 RM".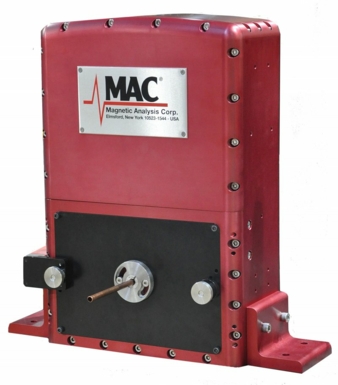 Included is the "Rotomac 25 RM" eddy current rotary, which has just been introduced for use in slow throughput operations such as fastener production cold headers, parts manufacturing, and some spring makers. The Rotomac 20mm HS is designed for applications in need of higher speed operations.
 The Rotomac 25 RM, coupled with MAC's "Minimac 60/65" eddy current electronics, designed for rotary probe operations, provides cost effective, reliable on-line inspection for long, continuous surface flaws such as seams and laps in cold heading operations. Flaws are identified prior to forming and cutting and the defect alarm activation is delayed so the piece made from the defective wire is rejected after the cutting operation. Operating at 1,000rpm, with an air ride probe and a single test channel, the Rotomac 25 RM handles wire, 3mm to 25mm diameter. Test probe adjustments are easily accessible. Typical throughput speeds are 12ft./min to 40ft./min. Bushings keep the product centered during the test and the rotary's highly accurate distance compensation, when using an absolute test probe, permits inspecting excessively out of round product.
 The 20mm Rotomac HS, coupled with MultiMac eddy current electronics, is well suited for spring makers and other wire producers that have a need for higher production speeds up to 18,000rpm. Product from 2mm to 20mm diameter can be tested and the highly sensitive non-contact probes provide superior test results. Both probes can be adjusted simultaneously for dimensional changes using a convenient dial-in diameter guide. Distance compensation, a critical factor for testing ovate wire is included and for drawn wire, drawing nibs can be adapted for use as bushings for testing marginally straightened wire. Applications include testing A-286 stainless steel wire and similar low conductivity alloys.
 Rotary eddy current testers are considered the method of choice for detecting seam type long, continuous defects. The amplitude of the test signals for any surface seam is highly proportional to its depth. Rotary probes, unlike encircling coils, are not affected by changes in throughput speeds, often found in spring making, and other parts forming because the probes spin continuously around the test material at a fixed speed.
 Experienced engineers will be available to also discuss the Rotomac 20mm HS rotary and other options. The company, a major designer and producer of eddy current, ultrasonic and flux leakage nondestructive test instruments and systems has been supplying metal producers and fabricators since 1928.
Magnetic Analysis Corp.
Interwire 2021, booth 346
Tel.: +1 914 530-2000
www.mac-ndt.com