16/11/2021 –
For short steel and stainless steel sections
Burr-free straightening and cutting whether straight or angled
"Precision Cut MJC" is a series of straightening and cutting machines that can straighten and cut short, straight and angled sections without any burrs.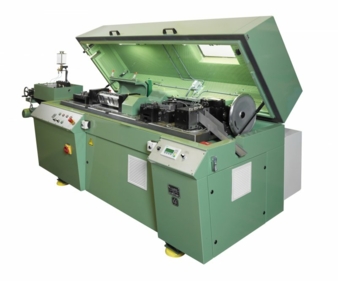 Developed by Jouhsen-Bündgens, these machines process wires measuring between 0.5mm and 9.3mm in diameter, with outputs of up to 800 units per minute. For straightening, customers can choose between a rotating or roller straightener. The straightening tools can be changed quickly and easily to handle different wire diameters. It is also possible to adjust the part lengths. The sections produced on the Precision Cut MJC are used in a wide variety of applications, including as rollers for roller or needle bearings, along with bolts, contact pins, hinge pins, axles or motor shafts.
Jouhsen-Bündgens relies on tried-and-tested machine elements for the Precision Cut MJC series. The system features precisely cut and exchangeable linear guides to provide a zero-vibration mount for the tool. The precision guides and drive shaft are mounted on a cast-steel plate for easy access. This makes adjustments and maintenance work much easier. The infeed and cutting system is controlled mechanically by means of a split-cam shaft. An enclosed machine housing effectively dampens the noise and is easy to access from three sides. The drive, electronics and central lubrication are all integrated. The Precision Cut MJC is also available in special versions upon request.
Jouhsen-Bündgens Maschinenbau GmbH
Tel.: +49 2402 102067-0
www.jouhsen.de
About Jouhsen-Bündgens
Based in Stolberg in western Germany, Jouhsen-Bündgens has specialized in wire processing machinery for over 150 years. The company has a wealth of expertise in cutting, grinding, cold forming and processing wire and pipe, as well as in special machine tools, feed systems and test engineering. Jouhsen-Bündgens develops the steps required to precisely process wires and thin pipes measuring 0.02 mm to 16 mm in diameter, tailored precisely to customer needs. It can also incorporate wire processing into an automated procedure if required. As the world's leading specialist for rotary straightening, the team at Jouhsen-Bündgens delivers the right solutions for a wide range of processes for customers in Europe, America and Asia.