21/10/2021 –
Two full days, 32 speakers from 26 to 27 October 2021
WAI's "Virtual Industry 4.0 Conference"
The Wire Association International (WAI), Inc. continues its educational mission and welcomes registrants for its "Virtual Industry 4.0 Conference" and "91st Annual Convention" on October 26-27, 2021.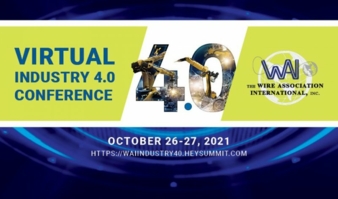 To date 32 speakers are set to share their expertise about how Industry 4.0 technologies enhance wire making. Featured speakers are from manufacturing companies currently using these methods in their plants, as well as representatives from a wide range of suppliers that offer solutions in this space. Sessions run throughout each day in 25-minute segments with 15-minute briefings slated at midday. The full schedule*, beginning at 9:30 a.m. ET each day is available here: https://waiindustry40.heysummit.com/schedule/ *Schedule is subject to change. Topics include: Big Data; Industry 4.0; IoT; Industrial IoT; Process Automation; Smart Factories; Smart Planning; Smart Integration; and Virtual Reality.
Participate from any location
The virtual format gives registrants the opportunity to participate from any location; interact with speakers with questions; and also to replay sessions for a month after they first air. Remarking on the new conference, WAI President Tom Heberling said, "Offering this conference virtually is valuable for everyone who wants to understand how Industry 4.0 technologies apply to wire making. We are thrilled that the speakers are cued up and ready to bring their expertise and energy to the program. We've adjusted our expectations upward since attendance is convenient for all."
WAI Annual Convention
The WAI Annual Convention features the following keynote speakers on October 26 and 27, respectively. Award-winning filmmaker Brett Culp presents "Superhero Leadership: How everyday people can have an extraordinary impact; and Kathleen Edge, EVP Operations, Southwire Company LLC presents: "Connected – flexible operating system." Winners of WAI's top awards will also be recognised.
The program is sponsored by: Cerro Wire LLC; Encore Wire Corp.; Gem Gravure Co. Inc.; James Monroe Wire and Cable Corp.; Lloyd+Bouvier Inc.; Prysmian Group; SDI LaFarga Copperworks; Sonoco Reels+Spools; Southwire Co. LLC; Wire+Plastic Machinery Corp.
Discounts are available for WAI members. Tickets are $90 USD for full access; and $110 for full access plus new WAI membership. Visit: https://waiindustry40.heysummit.com/ for full details and to register.
About WAI
The Wire Association International (WAI) is a not-for-profit association with 1,800 individual members in 50 countries. The association serves the educational needs of the wire and cable manufacturing industry through a variety of products and services. WAI manages the "Interwire" Trade Exposition and the WAI Operations Summit+Wire Expo and publishes the Wire Journal International and the Wire Journal International Reference Guide.