22/07/2022 –
TK Materials Processing Europe in El Puig climate-neutral by 2023
Successful in the use of renewable energies
As part of the steel service center network of Thyssen Krupp Materials Processing Europe, the site in El Puig, near Valencia/Spain, is systematically taking further steps towards climate neutrality.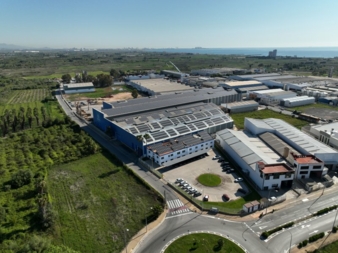 By 2023, the company will operate on site in a climate-neutral manner. One important element is the installation of an extensive photovoltaic system.
"The best possible use of resources for a sustainable future is an important part of our corporate strategy. The investment in photo voltaics and our other measures take us a giant step forward," says Oliver Bensing, Managing Director of Thyssen Krupp Materials Processing Europe at the El Puig site.
The first 525 solar panels have already been installed to make the most of nearly 300 powerful days of sunshine in the region around Valencia. The electricity generated by seven inverters already covers 35% of the site's energy requirements. The installation of a further 1,300 solar panels will be completed next year. The company will then be producing solar power equivalent to the full amount of its own needs at the site, as well as additional energy from solar power that will benefit other consumers in the regional supply system. This will make El Puig the first operating site of Thyssen Krupp Materials Services to operate on a climate-neutral basis. Thyssen Krupp Materials Services and its total of around 260 warehouse sites will be climate-neutral by 2030.
Holistic approach to sustainability
The on-site team had already taken numerous measures in recent years to reduce energy consumption: the introduction of LED lighting systems and compressors as well as the switch to electric forklifts had already led to a reduction in total energy consumption of over 20% between 2017 and 2020.
However, the company's approach to sustainability goes beyond its own processes: As a member of the Responsible Steel initiative, the team at El Puig is committed to the increasing use of CO2-reduced material. In addition, the site is committed to the reforestation of the forest on la Platà mountain in El Puig and supports the FEDA Madrid foundation and the Starkid School in Kenya as part of its training collaborations.
www.thyssenkrupp-materials-services.com
About Thyssen Krupp Materials Services
Thyssen Krupp Materials Services is the largest mill-independent materials distributor and service provider in the Western world, with around 380 locations - including approximately 260 warehouse sites - in more than 30 countries. The versatile range of services offered by the materials experts allows customers to focus even more strongly on their individual core businesses. As part of its strategic development "Materials as a Service", the company is focusing on the supply of raw materials and materials as well as products and services in the area of supply chain management. Digital solutions ensure efficient and resource-saving processes for customers and thus provide the basis for sustainable action. From 2030 Thyssen Krupp Materials Services also aims to operate on a climate-neutral basis.