23/05/2023 –
"Inspired Manufacturing" – conference and exposition
Interwire attracts 3,184 visitors
The Wire Association International (WAI), Inc. reports that "Interwire 2023" made a successful return to its biennial schedule at the Georgia World Congress Center, Atlanta, Georgia, USA, May 9-11.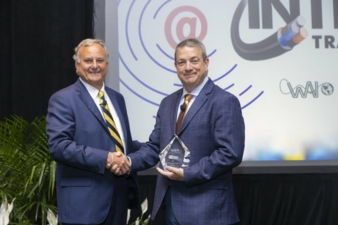 The exposition and conference engaged 3,184 wire and cable industry professionals representing 43 states and 42 countries at its first in-person showing since 2019. Attendance included representatives from 285 wire and cable manufacturing operations.
Keynote presenters Srinivas Siripurapu, Chief Innovation and R+D Officer, Prysmian; and Rich Stinson, President and CEO of Southwire Co., drew much interest on May 9 and May 10, respectively, with their insights on an electrified future. At the Awards Ceremony Mr. Stinson received the inaugural WAI Champion Award, which honors an industry executive for his/her strong support of The Wire Association and its mission.
 335 exhibiting companies participated at "Interwire" to showcase the latest products and developed technologies available to wire and cable manufacturers; 80 product categories were represented. WAI introduced more than 30 new exhibiting companies to the "Interwire" this year.
 Other features included two presentations by former astronaut Mary Ellen Weber sharing her experiences of space flight; as well as segments on Industry 4.0, the Workforce, Extrusion/Polymers, Industry Outlook; technical sessions; a Mordica lecture; and production solutions demonstrations. New for fun and networking this year were the Welcome Reception at Mercedes-Benz Stadium; the in-hall Beer Garden, sponsored by Rainbow Rubber; and the Cornhole Zone, sponsored by James Monroe Wire+Cable Corp.
 WAI's popular Fundamentals of Wire Manufacturing course – offered as a pre-show option on May 8 – had record-breaking attendance, engaging 209 participants.
 Commenting on the activities 2023 WAI President Kurt Breischaft said, "Being back in Atlanta for Interwire this week has been awesome! Record attendance at our Fundamentals of Wire Manufacturing course underscores the continued need for the Wire Association International's focus on education. Having technical experts willing to share with others is the heart of WAI."
Interwire sponsors and support*:
Elite level: Encore Wire Corp.; James Monroe Wire+Cable Corp.; Lloyd+Bouvier Inc.; Prysmian Group; Rainbow Rubber and Plastics Inc.; SDI La Farga Copperworks; and Southwire Co. LLC.
Platinum level: Carris Reels Inc.; Davis-Standard LLC; Gem Gravure Co. Inc.; and Wire+Plastic Machinery Corp.
Gold level: Samp Group and Sonoco Reels+Spools
Silver level: Enkotec Co. Inc.; Insteel Wire Products; The MGS Group; Niehoff Endex North America; Richards Apex Inc.; Sikora International Corp.; and Troester Machinery Ltd.
Bronze level: Baum's Castorine; Fort Wayne Wire Die; and Precision Reel/Payoffs
* The Wire and Cable Industry Suppliers Association (WCISA) is an industry partner with WAI.
Background
Introduced in 1981, "Interwire" is the largest and longest-running wire and cable marketplace in the Americas. Hosted biennially, Interwire is an international trade event that includes exhibiting companies, speakers, and visitors from around the world. WAI, founded in 1930, is a not-for-profit association with more than 2,200 individual members in 50 countries. The association serves the educational needs of the wire and cable manufacturing industry through a variety of products and services. WAI manages the Interwire Trade Exhibition and the WAI Operations Summit+Wire Expo and publishes the Wire Journal International and the Wire Journal International Reference Guide.