06/03/2023 –
Georgia World Congress Center May 9-11, 2023
Inspired manufacturing at "Interwire"
Wire and cable manufacturers look to the Wire Association International's (WAI's) biennial "Interwire" trade exposition and annual educational conference for all that is new – technology, equipment, and research – that drives the future of the industry. Visitors from 50 countries attend to explore new wire making solutions and to stay current on best practices.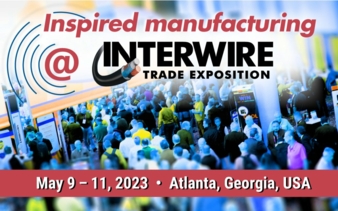 "Interwire" returns to the Georgia World Congress Center May 9-11, 2023. A global resource, the exposition features 300 exhibiting companies from 26 countries. Wire and cable machinery is introduced and sold at the trade fair as it has been since its launch in 1981, making it the largest and longest running event of its kind in the Americas. More than 100 product or equipment categories comprise the marketplace, facilitating in-depth capital equipment reviews and comparisons.
As wire makers adopt Industry 4.0 and smart manufacturing technologies – industrial automation, machine learning, robotics, and data analytics – they are also making innovative plans and refining strategies to meet future production initiatives.
WAI's "Interwire" conference program delivers the how and now of wire and cable making both on macro and micro levels. CEOs and presidents, plant and operations managers, quality assurance, technical, and engineering personnel each have viewpoints to consider and experience to gain at "Interwire". Attendees represent the general, ferrous, and nonferrous sectors.
Highlights
– Keynote: Srinivas Siripurapu, Chief Innovation and R+D Officer, Prysmian, presents "Innovation, investments and incentives – Electrifying the wire and cable industry for a brighter future."
– Keynote: Rich Stinson, President and CEO, Southwire Co., presents "The future is electrified!"
– Bruce Kiefer presents the Mordica Lecture: "Ferrous rod – before it gets to be wire."
– Focused sessions include Industry 4.0; the Workforce; Industry Outlook; and Extrusion/Polymers. Panel sessions: "The steel market," and "Copper supply and demand." Nine technical sessions.
– Featured speaker: Mary Ellen Weber, astronaut, executive, aviator, and scientist presents: "To boldly go: The experience of spaceflight."
– Production solutions demonstrations.
– Pre-conference course: "Fundamentals of Wire Manufacturing" requires separate registration.
See details and registration options at: www.interwire23.com