18/04/2023 –
Interwire 2023 conference May 9-11, Atlanta, Georgia/USA
Inspired manufacturing
The Wire Association International (WAI), Inc. announces details of its annual conference program, offered May 9-11 in conjunction with "Interwire" at the Georgia World Congress Center, Atlanta, Georgia, USA.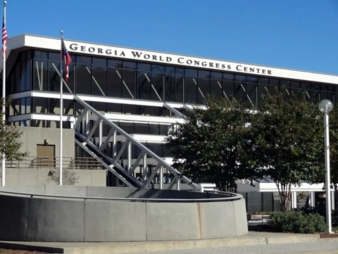 Presentations include two keynote addresses; a featured speaker; focused sessions on Industry 4.0, the workforce, and extrusion/polymers; Industry outlook panel sessions; nine technical sessions; and production solution demonstrations as outlined below. All are included with conference and exhibit registration.
 WAI's popular "Fundamentals of Wire Manufacturing" course is offered as a pre-show option on May 8 for those either new to the industry or in need of a refresher.
Keynotes
Srinivas Siripurapu, Chief Innovation and R+D Officer, Prysmian, delivers his keynote address on May 9: "Innovation, Investments and Incentives – Electrifying the wire and cable industry for a brighter future."
Rich Stinson, President and CEO of Southwire Co. presents "The future is electrified!" on May 10.
Featured speakers
Dr. Mary Ellen Weber, astronaut, executive, aviator, and scientist presents: "To boldly go: The experience of space flight" on May 10. Dr. Weber offers a second presentation that afternoon at the WAI Theater in exhibit Hall A titled: "A new era of space travel: Commercial space, NASA, tourism, the Moon, and Mars."
Industry 4.0 sessions
– "How AI will change wire and cable manufacturing," Willem Sundblad, Oden Technologies.
– "The future of industrial work: How Smart AI is helping to unlock the true potential of today's workforce," Russ Fadel, Augmentir.
– "Unleashing the full potential of Industrial IoT with GPT-3," Andrés Cartagena Ruiz, 40Factory.
– "Lessons from the journey to a connected enterprise, Will Berry, Sr. VP engineering and modernization, Southwire Co.
Workforce sessions
 – "Behind the numbers…Establishing world class safety and training programs," Rob Caillet, VP of environmental, health and safely, Encore Wire.
 – "The state of the manufacturing workplace," Matt Dionne, Managing partner, TYGES Executive and professional search firm.
 – Executive panel: Adapting to the workforce challenges with senior industry leaders. Moderator Drew Richards, president Richards Apex; Panelists: Joe Barrett, president, Davis Wire; David Fisher, president, James Monroe Wire & Cable.
Extrusion/Polymer sessions
– "Advanced extrusion technology," Mikko Lahti, R+D director, Maillefer Extrusion.
– "Polymer technology for wire and cable applications," David Lindsay, market manager-energy, North America, Borealis.
– "What are you risking by using outdated controls on your extruder?", Scott Barlow, CEO, Integrated Control Technologies.
Industry outlook
– "Can the cable industry avoid the impending economic downturn?" Aisling Hubert, editor, CRU.
– Executive Panel – "Steel Market."
– Executive Panel – "Copper Supply and Demand."
Conference and Exhibit registration also includes presentations at the WAI Theater in exhibit Hall A, featuring:
Technical sessions
– "In-situ evaluation of the performance of wire drawing using multiple sensors."
– "The future of industrial work - How Smart AI is helping to unlock the true potential of today's workforce."
– "Inline surface dimensional flaw detection and outer diameter/ovality measurements using laser line triangulation."
– "Manufacturing high-quality fine copper wire at a low cost by combining three-roll rolling and wire drawing."
– "Application of polymer lubricants to replace zinc phosphate in wire drawing."
– "Thermo-mechanical and air patenting in modern rolling: characteristics and advantages."
– "Achieving high quality in wire using eddy current testing."
– "Inline profiling of magnet wires for e-mobility."
– "Upcast oxygen free copper rod metallurgy, OFHC/OFE wire manufacturing, and other practicalities."
Presentation by Dr. Bruce Kiefer
"Ferrous rod – Before it gets to be wire."
Production solution demonstrations
Manufacturing challenges and common process hurdles are reviewed at these live demos offered May 10 and 11 featuring:
– "Factors affecting wire production from precoats to lubricants."
– "Wire breaks."
– "Wire drawing die material and profile specification considerations."
Exhibits
300 exhibiting companies participate at the "Interwire" marketplace to showcase the latest products and developed technologies available to wire and cable manufacturers; 80 product categories are represented. WAI introduces more than 30 new exhibiting companies to the "Interwire" this year. Conference and exhibit schedule, details, and registration information is available on the event website: www.interwire23.com.
Event background
Introduced in 1981, "Interwire" is the largest and longest-running wire and cable marketplace in the Americas. Hosted biennially, "Interwire" is an international trade event that includes exhibiting companies, speakers, and visitors from more than 50 countries.
 WAI, founded in 1930, is a not-for-profit association with more than 2,000 individual members in 50 countries. The association serves the educational needs of the wire and cable manufacturing industry through a variety of products and services. WAI manages the "Interwire" trade exhibition and the "WAI Operations Summit and Wire Expo" and publishes the Wire Journal International and the Wire Journal International Reference Guide.