20/09/2022 –
Advertorial
Smart manufacturing of springs with loT architecture
Industry 4.0 is bringing changes to manufacturing and IoT is one of its enabling technologies. IoT is a term that is currently on everyone's minds when it comes to the subject of networked production in the digital factory of the future. The concept is discussed in associations, industries and companies, and is certainly interpreted and understood in different ways.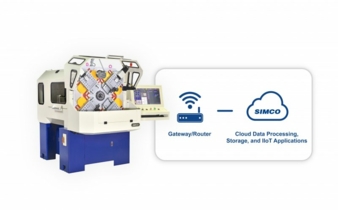 Simco has the subject of IoT as a main driver of innovation firmly anchored in its corporate strategy in the term Smart Factory 4.0. Its cornerstones are:
 1. Optimize machine utilization to increase production capacity
 2. From reactive to proactive quality management with IoT
 3. Intelligent data analysis to increase machine availability
Cyber security should thereby be used to help ensure the safety of production facilities, data and know-how. Here, we take a closer look at how IoT technology has been helping the spring manufacturing industry, and how it can continue to do so for years to come.
Springs smart manufacturing have the ability to improve almost all areas of existing manufacturing processes by giving employees access to a whole host of real-time information on their manufacturing process. IoT technology gives managers access to a huge amount of data, that provide vital insights into things like a spring machine's overall health, energy consumption and productivity. Here are some of the major benefits that any business in manufacturing can expect to see after integrating IoT technology within their existing manufacturing process.
Planning maintenance schedules based on historical information has long been an issue for many companies in the manufacturing industry. With no hard and fast rule on when equipment is likely to break down and require attention, it can be difficult to make an informed maintenance schedule that best suits the individual requirements of each machine.
With IoT technology, maintenance schedules are based on real-time information which is consistently being fed to those in charge of the equipment. Through the use of sensors, data is fed back to the human operative who can then make more informed decisions about when a machine in your production chain does, in fact, need maintenance work carrying out.
In turn, the information gathered by this technology has the ability to significantly reduce the amount of machine downtime throughout a business. This can be especially useful, as one of the main contributors for lost revenue throughout the last few years was unexpected machine downtime. The IoT technology installed into each machine within a business makes it extremely clear when a machine either needs maintenance work or potentially needs replacing altogether. Over the course of the coming years, businesses could expect to save thousands of pounds in lost revenue caused by unproductive or broken equipment.
Any company in the manufacturing industry will be actively looking to increase their product quality to ensure customer satisfaction, and IoT is capable of enhancing your product longevity. Improving the quality of products is not only great for customers, but it's also worthwhile from the manufacturer's perspective too. Higher-quality products boasting other benefits such as reduced waste, lower overall costs, increased customer satisfaction and loyalty and inevitably, an increase in overall sales.
 The major culprit for issues with product quality is often faulty items. Products can become faulty over time, or can be faulty from the time they are manufactured, which obviously causes issues for your company. IoT technology is capable of completely eradicating any problems during the manufacturing process, therefore ensuring that each and every product made is in complete working order. By utilizing sensors, smart manufacturing technologies are capable of identifying the smallest issues, from a temperature change that could affect product quality through to the machine not operating properly. Once an alert is raised, the human operative can stop production and work towards rectifying the issue at hand, potentially saving a manufacturing business a huge amount of money on faulty products.
IoT allows manufacturing bosses to collect and understand data for individual pieces of equipment, which allows them to identify if there are any problematic devices within the business. With a constant stream of data to analyze, it's extremely simple to identify any underperforming machines as energy consumption may outweigh its productivity.
The real-time data delivered by IoT technology allows businesses to make more informed decisions on when it is best to upgrade existing machines in the production chain. By finding any inefficient pieces of the production process, businesses stand to save a significant amount of money over the coming years. The Simco server was configured using MCU Wifi+Nbiothardware System, MySQL DB database, one of Linux OSs to run as a fog hub in the network. To identify the operational status, the automation module processes the monitored operational data using developed Local Lan, Cline Server functions in the server side. Then, the identified statuses were stored in a database of the Simco server.
The time for configuring monitoring conditions took less than a half hour. Through the GUIs of the Simco client, all information was simply configured by clicking a mouse cursor on a webcam image and typing text or numerical values. All components were connected via the Internet using a Wi-Fi network. As a result, the user can access the monitored data and working status using a mobile phone or laptop.
The results revealed that the proposed monitoring system is easy to integrate and can be conveniently applied for spring forming machine on the shop floor without a change of equipment, such as the integration of an additional electric circuit. Although the sampling rate was not as fast as industrial protocols, the server data were enough to show the operational status to the users at per second. Thus, the proposed concept has a potential of universal use for any numerically controlled equipment which has a proper display for human operators. This benefit could increase the availability of legacy machines for a particular task in a remote area without operator's watching, saving cost to invest and resources, such as energy and materials, for building new machine tools.
In the monitoring task, real-time and automated monitoring from a remote place can significantly decrease the monitoring complexity of distributed spring forming machines on the shop floor. Hence, operators have the advantage of reduced monitoring task and can focus on more valuable tasks to complete the scheduled production plan. This change can also make a capacity to handle the environmental issues for the sustainable growth of SMEs. Moreover, using the event processing in the cloud, such as checking the status of the operation, can reduce the unproductive time until noticing the unwanted issues like alarms, as well as for watching machine tools.
Less integration of additional parts also reduced the unproductive time required for the installation. The installation process was sufficient to install prepared software turn on each device and configure basic settings similar to the installation of electronic appliances, which took less than an hour, compared to the conventional method took few days. This simple integration could not only improve the usability, but also reduces the fear of use for the field workers in SMEs. In addition, shorter installation time can reduce the downtime to be sacrificed for the installation in the production.
The author of the article is Sam Yeh.
Taiwan Simco Company
6F.-1, No 27, Lane 61, Section 1, Guangfu Rd.
Sanchong District, New Taipei City 241, Taiwan
Contact person is Nicolas Lin
Tel.: +886 2 29954088
nicolas@simcotw.com
www.simcotw.com