04/06/2022 –
Speed record
Printing on cables at over 60 km/h
Leibinger presents its innovative coding and marking systems at "wire". Among the products being showcased will be the JET Rapid Wire – a high-speed printer that codes cables, wires, tubes and hoses at speeds of up to 60 km/h.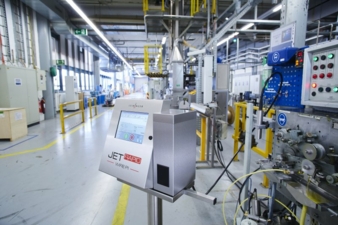 There are two things that matter most in the wire and cable industry: Quality and maximum output. To also guarantee this when coding extruded products, Leibinger develops industrial printers for customers worldwide that ensure maximum speeds, reliability, and user-friendliness thanks to special inks and industry-specific technologies – for a measurable increase in productivity. The German coding and marking specialist will be presenting five of these technologies.
Experience high-speed coding and test it live
Trade show visitors have the opportunity to experience Leibinger's outstanding quality by having their cables or other product samples coded directly at the booth.
For example, with the "JET Rapid Wire", a high-speed printer specially developed for high-speed applications. Cables, wires, pipes and hoses can be coded at speeds of up to 1.000m/min or 60km/h – without sacrificing marking quality. Thanks to special print heads developed for these applications, both fixed and variable codes can be applied legibly – even to small cable diameters. Special inks ensure ideal adhesion, abrasion-resistance, and durability.
With the "JET Rapid Wire PI", even dark materials can be coded with contrast inks at speeds of up to 800m/min. Leibinger also has the right solution in its portfolio for flexible applications with frequent product changes on the lines. For example, a special ink that is easily legible on both dark and light surfaces. This all-round solution eliminates the need to purchase several devices for printing on different colored cables, wires and tubes.
Stop cleaning. Start coding.
At the heart of Leibinger's innovative printing technology is its unique hydraulic system, patented by Leibinger, with "Sealtronic" – a fully automatic nozzle sealing technology that seals the ink circuit airtight during production pauses. This significantly increases coding reliability and eliminates labor-intensive cleaning work due to dried ink and clogged nozzles.
Another ingenious feature developed by Leibinger to optimize production in the cable industry is the "Speed Dependent Output" function. It actively monitors common pretreatments, such as corona or plasma, and triggers them through the printer. If the production speed falls below the predefined minimum, the pretreatment is actively switched off to prevent production downtimes.
Always with an eye on productivity
Leibinger also supplies advanced digital tools and services to further facilitate integration into production processes. These are based on the "Leibinger Connect" platform and provide valuable insight into productivity-driving and productivity-inhibiting factors in the coding process itself and beyond. The products assist in anticipating the daily tasks involved in the operation of the coding systems, actively contributing to more efficient production workflows. An intelligent early-warning system helps carry out maintenance work on schedule while avoiding unexpected downtimes. In addition, these products support performance analysis and production optimization based on benchmarking and relevant key figures. This applies to the entire value chain beyond coding. And finally, "Leibinger Connect" enables the integration of coding and marking systems into modern Industry 4.0 environments as well as intelligent networking of both physical and digital worlds.
wire 2022, hall 9 booth F 55
Paul Leibinger GmbH+Co. KG
Daimlerstrasse 14, 78532 Tuttlingen, Germany
Contact person is Natalie Maus
Tel.: +49 7461 9286-244
nmaus@leibinger-group.com
www.leibinger-group.com
About Leibinger
Paul Leibinger GmbH+Co. KG is a globally positioned specialist in coding and marking systems with its headquarters in Germany. The third-generation family-run company, founded in 1948, develops and produces industrial inkjet printers at its site in Tuttlingen, Baden-Württemberg (Germany), with a workforce of around 250. The CIJ systems excel with their very high quality standard and fully automatic nozzle sealing technology, which minimizes the cleaning effort required for the printers. A global network with more than 150 service partners and company subsidiaries in the USA and China ensure that Leibinger is ideally positioned to maintain a close relationship with its customers all over the world.