05/03/2021 –
"Smart Factory Platform" for wire and cable
Pioneer now providing "Smart Factory" solutions
Pioneer Machinery, based in Taiwan with more than 48 years of experience of designing and manufacturing wire and cable machinery, specializing in Power Cable turnkey solution, is now in the "IoT" industry providing customers "Smart Factory" solutions.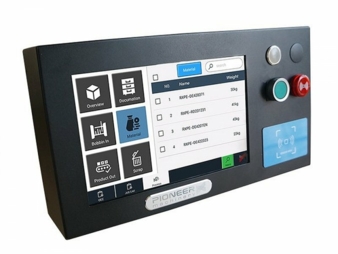 Pioneer "Smart FA" is the "IoT" platform 100% developed by Pioneer Machinery, and it can help you visualize and manage your factory easily and intuitively. Their machine upgrading service and "Smart Box" makes the machine perfectly integrated with Smart FA platform. They modulate all systems to plug on the platform and allow the customization of the interface and its functions.
Relying on their knowledge of cable and wire industry, Pioneer provide a comprehensive IoT solution and service to cover your whole spectrum needs,
1. Surveying and Consulting
2. Line upgrading service to IoT machine
3. Customized Smart factory platform (web base) – Pioneer "Smart FA"
4. Wire and Cable IoT Functions such as
3D Factory map; Data visualization- Scada; Digital flow – Job Dispatching; Recipe system; Product defect traceback; Energy management system; Live Time Table – Task Queue; (and so on)
Since 2016, Pioneer has helped customers to deploy smart factory solutions at different scales and according to their need, from a single line to a turnkey solution.
Fortunately, they have got a lot of positive feedback from users. For example, Pioneer has cooperated with Ta-Tun electric wire+cable co., LTD, one of the most famous Hypalon and high/extremely voltage manufacturers in the world. Pioneer exchanged the experiences in the factory field and got the consensus for the habit of operation, interface and even digital flow. However, some of their new customers are struggling with the high expenses and slow progress of upgrading machines, and all of these difficulties give a reason to stop customers' path to do the smart factory plan.
Now, Pioneer "Smart Box" is an alternative solution to upgrade to an IoT Production Line. It is equipped with a touch screen for job dispatching and a RFID reader for data labeling. It can also easily connect with Pioneer Smart FA through a minor modification on the existing machine.
The benefits of Pioneer Smart Box:
– Deploy Faster and more Flexible – Plug and Play Pioneer SmartBox, an extra system attached beside the production line, it is easy to be implemented and flexible to deploy to any kinds of production processes.
– Affordable and Reliable – Pioneer Smart Box is 100% developed by Pioneer Machinery. Our goal is to provide an economical, reliable product and sustainable service to our customers.
– Connect Pioneer Smart FA Function Modules Easily – With connecting the Operation Technology and the Information Technology(OT+IT), it's easy to implement basic functions and get the analysis reports. For example, basic functions-Scada and Production History helped a great deal to our customers in order to let them know all relevant production details.
Pioneer Machinery have been servicing more than 400 customers from 70 countries.
Pioneer Machinery Co. Ltd.
No.9, Minzu St, Tucheng Dist,
New Taipei City 23679,
Taiwan
Contact person is Allen Liao
Tel.: +886-2-2268-1188
sales@pioneerm.com
www.pioneerm.com/en