22/10/2019
Lueling defines a new surface quality
"Opti-S" is a new surface quality from the German wire manufacturer Fr.+H. Lueling. The token stands for "Optimal Surface", and it's intended to replace time-consuming final tests. The new quality is currently available in the diameter range 6mm to 20mm.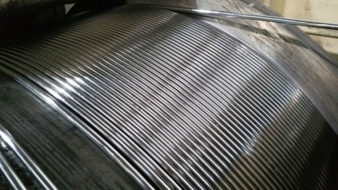 The production processes used to produce an almost faultless surface quality were first developed internally, the success of which was then documented using complex testing technology and confirmed in practice by selected customers. As far as Lueling is aware, the production combination used to manufacture "Opti-S" is unique worldwide, says project engineer Mr. Stefan Pelka. In addition to the goal of producing an almost flawless surface, the economic aspect has not been ignored.
The obligation of suppliers to guarantee their customers "zero defects" is nothing new in the automotive industry. Due to the increasing use of so-called modular systems, faulty parts have an even greater impact on quality statistics. The recall figures of recent years prove this. "Since the beginning of the project, the priority has been to generate not only a competitive advantage but also great customer benefits, which can be explained economically by leaner and less complex final inspection procedures," reports Lueling's managing director Christian von der Crone: "If we manage to do this, in the end the investment for implementing the project is justified." Opti-S is intended for products in which an extraordinary surface quality of the drawn wire is the basis for later faultlessness of the manufactured component.
No time-consuming final testing
If the customer is interested in using Opti-S, close coordination is required first. The following should be clarified
 - Which parts have higher failure rates due to unobjectionable or undetectable surface imperfections
 - How the error pattern leading to the failure is displayed
 - How time-consuming and cost-intensive is the sorting process, and
 - Which quality obligations towards the end customer are to be observed
 Once this information is available in detail, Opti-S production planning is carried out for the product.
The aim of Opti-S is to eliminate the need for final inspections using optoelectronic systems or manual sorting, which is labour-intensive and costly. At the most, random or largely reduced simplified inspections should be necessary. Since the surface quality achieved with Opti-S largely corresponds to standards such as – for example – in medical technology, customers could enter into new dimensions with regard to quality reliability, says Christian von der Crone: "With the use of Opti-S, quality is produced right from the start and not tested later". The newly developed production technology is currently available in sizes ranging from 6mm to 20mm.
Fr.+H. Lueling GmbH+Co. KG
 Kleffstrasse 1, 58762 Altena/Germany
 Contact person is Mr. Marc Haufer
 Tel.: +49 2352 977-0