26/04/2021 –
Wire processing / bending and welding
Fully automatic production of individual four-legged spacers
Eurobend introduces its latest process for the fully automated production of individual spacers. The unique solution offers a compact machine design, flexibility for any product changeover, increased productivity and exceptional output accuracy.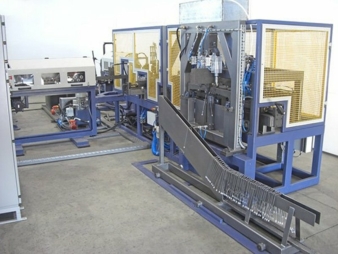 Until now, there have been only two methods to produce any type and size of spacers: either by manufacturing in several separate steps (straightening, bending and welding), which is extremely time and labor intensive as each production step requires different machines and one operator per machine, or by using outdated cam-controlled machines, whose disadvantages are the over-complexity of the design and the time-consuming product changes.
There are two machine versions available, one produces spacers with automatic insertion of plastic cups and a second one that produces plain-type spacers with 'over-bend' of all four wire ends. This machine can produce spacers with straight ends, for dipping.
Both machine versions are offering the same advantages and features, which can be summarised as follows:
Their smart design offers almost unmanned operation, allowing also ample space for trouble free and precise product change-overs. Spacers with heights from 2" (50mm) up to 12" (305mm) can be produced with negligible manual involvement.
In simple terms, the operator is only required to supervise the production process and remove the automatically produced four-legged spacers from the stacking device. Thanks to the minimal manual adjustments required, the machines ensure uninterrupted production. Both the line and cross wires are precisely fed to the machine, due to the use of powered pay off stations and servomotors.
All wire straightening units are using quick set up adjustment devices, for fast, accurate and trouble free wire diameter changeovers. Additional set up adjustment devices can be provided to cover a vast range of wire diameters, thus minimising any downtimes spent on adjusting the straightening rollers. The bending stages are fully synchronized, ensuring continuous operation totally eliminating any downtimes. On the machine version with the integrated unique cup insertion system the elimination of any loose cups is ensured, which is a major problem on any other cup insertion method and/or system.
The machines operate with Windows-based, simplified software that requires minimal programming skills and provides fault diagnostic tools and remote access for technical support. The finished products are uniformly collected in a sliding discharge and stacking unit for easier removal.
Eurobend offers the most complete range of mesh welding lines for the production of any type of mesh used in precast plants and in the construction sector in general, in addition to its wide range of welding lines for the production of standard and special structural steel mesh, engineering, precast or architectural mesh.
Eurobend GmbH
Alexander Strasse 1
90547 Nürnberg-Stein/Germany
Contact person is Harris Athanassopoulos
Tel.: +49 911 9498980
sales@eurobend.com
www.eurobend.com