01/06/2021 –
Preventive Maintenance on cable production machines
Detect and stop oscillations and vibrations
By using a vibration sensor in the Kurre Drum Twister, it is now possible to detect and stop oscillations and vibrations in the system.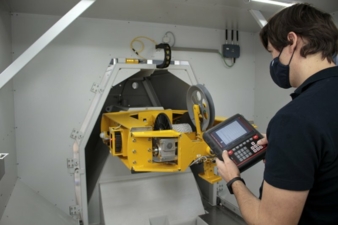 The Drum-Twister is a rotating take-up that is integrated into twisting lines and is therefore exposed to high vibrations. Imbalances can be caused either by bad spools or by failures of the rewinder. The sensor is able to detect these imbalances on the take-up winder in the form of vibrations.
These vibrations can be classified by the control system. As a result, for example, low vibrations can be ignored, higher frequencies lead to a reduction in line speeds, and high vibrations require the line to be shut down. This sensor technology can be used to achieve an effective improvement in the safety of the machine.
 In addition, the sensors also increase machine life cycle, as fatigued fractures can be systematically eliminated. Furthermore, the detected vibration warns of possible damages to the take-up reel. During commissioning, the natural frequency of the winder is recorded. Tolerance ranges can thus be created, which serve as "good" ranges. If the take-up reel exceeds this range, it acts as an indicator of impending maintenance. Moreover, with regard to Industry 4.0, the sensor extension makes it possible to record and evaluate operating data to make it usable for further processes.
Kurre Spezialmaschinenbau GmbH
Industriestrasse 5, 26683 Saterland/Germany
Contact person is Thorsten Wilde
Tel.: +49 4498 9250-120
thorsten.wilde@kurre-systems.de
www.kurre-systems.de