01/06/2022 –
Wire bending up to 12mm diameter
Create with wire – simply
The BLM Group showcased a wide range of its technological solutions, along with its complete service portfolio at the exhibition in Düsseldorf from June 20 to 24.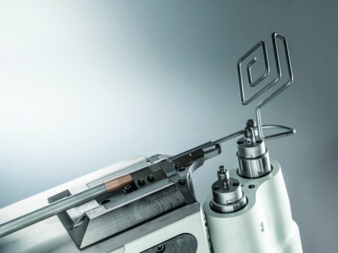 "At last, we are back to meeting customers in the setting of a major international trade fair. We are ready to welcome visitors to our booths where they will be able to see our key technologies at work, talk to our specialists and discuss the production solutions best suited to their needs," said BLM GROUP Sales Director Maurizio Toselli. "Of course, contact with our customers never stopped during these difficult and uncertain times but having the opportunity to get together, exchange views and plan the future together is very important," Toselli concluded. The BLM GROUP solutions will be on display at "Tube" booth J 22 in hall 5 and at "wire" booth F 21 in hall 10. The following systems will be on show at the "wire" exhibition stand:
"DH40" wire bending up to 12mm diameter
"DH40" is a wire bending machine with a twin head, each with a double bending turret, which allows for the production of large complex parts from coil and bar. The DH40 can flexibly and productively process a wide range of materials, wire up to 12mm diameter, bars and small tubes and armored heating elements for household appliances.
With "VGP3D", all the job parameters are saved together with the part program. No specific knowledge is needed for use or retooling. Feasibility is enhanced by the cantilevered and space-saving design of the bending heads, the double bending turret which multiplies part production potential and the retractable manipulator that allows the production of parts with a very short intermediate section.
Furthermore, the ability to bend wire with a diameter up to 12mm makes it possible to create furnishing components, for both indoor and outdoor use, such as chairs, tables, stools, clothes
hangers, holders, etc.
Create with wire, simply and productively
The "E-Flex" is an all-electric twin-head wire bending machine capable of bending metal wire with a diameter up to 10mm. Using a space-saving bending head with planetary movement around the wire, and the double turret for implementing a wide array of different bending technologies, the E-Flex offers complete freedom in the coil production of objects of any type, in an extremely fast and repeatable manner.
With "VGP3D", all the job parameters are saved together with the part program. No specific knowledge is needed for use or retooling. All-electric technology, superior quality components, the possibility of equipping the system with tools with grooves, specific tools for parts with a high aesthetic finish, and a cutting system also controlled by a dedicated electric axis for the best cutting quality and longer tool life, are just some of the features that make E-Flex an extremely versatile, powerful system that offers infinite application possibilities in the most diverse sectors.
Software solutions and services
A complete software suite for managing your process technologies In parallel to laser cutting systems, BLM Group offers a suite of native software programs that makes the most of the power of the equipment to provide users with excellent work performance and robust process features for programming both on the machine and in the office.
"Artube" is the BLM Group CAD/CAM software for programming Lasertube systems enabling operators to draw, manipulate and design single parts or complex tubular assemblies of any section. "VGP3D" is the three-dimensional graphic programming software for BLM tube bending machines and wire benders. Simple, user-friendly and powerful, the VGP3D is also available in an office version and allows the operator to create any shape or geometry with the tube with a few simple clicks. "Protube" is the BLM Group production MES, a single interface for easy and transparent management of part programs for the main BLM machines. Protube can be used to prepare technologically precise work orders in the office, to efficiently plan production, send production orders to the connected plants and keep track of all operations. By applying artificial intelligence strategies and data interconnection with the customer's ERP, Protube is the key enabler for the evolution of smart Industry 4.0 applications.
Customer-oriented services with dedicated solutions
The BLM GROUP can offer a wide range of services designed to accompany the customer throughout the lifecycle of the system to maintain the highest level of efficiency and machine availability. The many services that the group offers include:
– Software and remote assistance contracts for quickly resolving any unexpected problems and providing support in the event of new production needs. Remote assistance also uses augmented reality tools, like Active Eye, to quickly transmit the necessary instructions to the operator.
– Graduated maintenance plan levels. Customers can choose the maintenance plan that best suits their production rate and plan operations so that you never interrupt production and increase the life of each machine by adopting specific activity schedules: Routine and/or supplementary maintenance and repair of faults and supply of spare parts.
wire 2022, Halle 10 Stand F 21
BLM S.p.A.
Via Selvaregina, 30, 22063 Cantu (CO), Italien
Contact person is Chiara Vaccari
Tel.: +39 031 7070200
export@blm.it
"DH4012" video: https://www.youtube.com/watch?v=CkoUTb7-7Gk
"E-Flex" video: https://www.youtube.com/watch?v=bbf1GXEcsF4
About BLM Group
BLM Group is the global partner for the entire tube machining process with a recognized worldwide presence and thousands of applications:
BLM S.p.A., based in Cantù (CO), Italy, is specialized in the production of CNC tube bending machines, tube forming machines, measuring units and devices for automated integration.
Adige S.p.A., based in Levico Terme (TN), manufactures systems for laser-cutting tubes and machines for saw-cutting tubes, solids and sections. The range is completed by brushing machines, measuring systems, washing systems and collectors
Adige-Sys S.p.A., based in Levico Terme (TN), specializes in the production of "mixed" laser-cutting systems for cutting tubes and sheet metal, systems for laser-processing largesized tubes and end cutting and machining lines for tubes and bars.