11/05/2022 –
Nabertherm Controller Series 500
Always be in full control
Nabertherm presents an innovation in the field of furnace engineering: the controllers of the new 500 series. They are a real eye-catcher: appealing design, a touch display, coloured representations and simple symbols.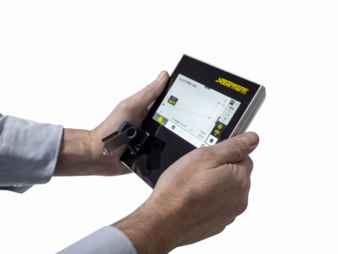 The innovative design includes the well-known high-quality Nabertherm technology "Made in Germany" and yet can do so much more than its predecessor. For example, the controller knows 24 languages and is a globetrotter by nature.
Replacing the old buttons and turning switches, the controller impresses above all with one thing: intuitive operation. The graphical display of temperature curves of the selected program, the precise temperature control, the program status display with the expected end time and date, various user levels and the integrated help menu make the controller a device that makes the control and process monitoring very easy.
The WLAN capability as well as USB interfaces for reading out service information and documentation of firing curves ensure the possibility of full integration into digitised production processes – independent whether in the studio, laboratory, or industry. In addition, control parameters and the configuration can be set in such a way that it may be used in any production environment and with most furnace families.
In order to round off the overall package and to explore the firing information from everywhere, the company has developed the associated "My Nabertherm-app" for download free of charge with every new controller. With the app, the current process data of one or more Nabertherm controllers can be read out live. As a result, customer can keep an eye on processes from anywhere, analyse them or just watch the progress of the firing with excitement from home. And just in case, the app informs directly via push notification about a fault that has occurred. The app can then be used to contact the Nabertherm service directly.
Because all of this is so new and exciting, Nabertherm decided to create an own chapter on their website to the controllers. On this page one will find all the highlights, information and tutorials on the various new functions of the controller, as well as the download option for the "My Nabertherm-app".
Nabertherm GmbH
Bahnhofstrasse 20
28865 Lilienthal, Germany
Tel.: +49 4298 922-0
contact@nabertherm.com
www.nabertherm.com