08/05/2023 –
Kurre revises accumulator systems for the processing of thin products
Accumulator with only 10N of tension force
For the processing of particularly sensitive products, Kurre Systems has reduced the minimum tension force for the vertical and horizontal accumulators to 10N.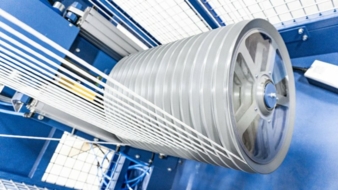 This has been realised on the one hand by a combination of a smoother and lighter construction and on the other hand by a revised design of the dancer unit. At the same time, the accumulator retains its usual stability and functionality.
 With approximately 100 metres of capacity for the vertical accumulator and 240 metres for the horizontal accumulator, both machines ensure reliably that enough product is buffered to allow, for example, a spool change to be carried out while the extrusion line continues to produce.
The accumulators process products with a diameter of up to 15 millimetres and can also simultaneously take over the function of a dancer for payoffs or take-ups within a production line. For optimal process monitoring, the accumulators can also be equipped with tension measurement and control.
 Kurre Systems supplies accumulators in various designs, both as individual units and as part of complete system. These can be individually adapted to the customer's needs at any time. In addition to the required storage capacity, the material and product properties, the structural conditions such as the available shop-floor size are also taken into account.
Kurre Spezialmaschinenbau GmbH
Industriestrasse 5
26683 Saterland
Germany
Contact person is Thorsten Wilde
Tel.: +49 4498 9250-120
thorsten.wilde@kurre-systems.de
www.kurre-systems.de