14/07/2022 –
New in-line induction wire preheater family
Key to better extrusion results
Zumbach Electronic A.G. are proud to announce the release of their all-new In-line inductive wire preheater family.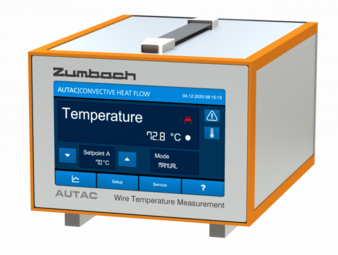 It is based on a completely new, intelligent induction power controller that ensures stable and linear heating of the conductor and increases productivity and product quality. Reproducible and uniform conductor temperatures help to shorten start-up times and reduce scrap production.
Features and Highlights
– "VISU-Touch – PoE" (Power over Ethernet) Operator Screen: Rugged and compact 7" Capacitive Touch Screen. VESA mount installation for flexible operator display positioning at the desired location.
– Material recipe: System provides recipes for 20 different materials. 3 fixed and 17 configurable to define custom materials with their specific composition details and heating requirements.
– Ambient temperature measurement: The preheater measures the ambient temperature to accurately calculate the temperate increase needed to heat the wire from ambient to the desired preheat temperature.
– Closed loop temperature control: The system provides an optional interface for the connection of an external temperature measuring system. These devices offer the advantage to be placed right at the entrance to the extruder for most accurate wire temperature achievement and accounting for heat losses.
– "AUTAC" Wire Temperature measurement – The perfect partnership for wire preheating: The "Autac 300" is used for temperature measurement and control for applications with conductor preheaters or post annealing re-heat stages. The system consists of a sensor and a processor display unit. Non-contact and precise temperature measurement with "Convective Heat Flow Principle" from 10°C to 300°C on wires and cables with a diameter range from 0.2mm to 7mm.
The measurement is independent of influencing factors such as colour, emission, speed, material or surface. The measuring head is slotted allowing the wire to be changed without interruption; there is no need for any threading.
Zumbach Electronic AG
Hauptstrasse 93, 2552 Orpund, Switzerland
Tel.: +41 32 356 04 00
sales@zumbach.ch
www.zumbach.ch